New Program Helps Community Fundraisers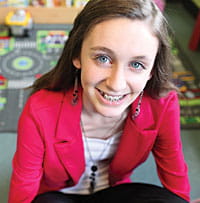 At 16, Julia Heyl is young, healthy and active – and a dedicated fundraiser for Cincinnati Children's. In 2008, Julia turned her birthday party into the summer's must attend event – one that raised money and toys for victims of child abuse served by the medical center's Mayerson Center for Safe and Healthy Children.
The party was such a success that she's continued the tradition each year for her birthday and recently added a Christmas-time fundraiser. Last year was her most successful, raising $400 and donating 13 tubs of new toys, but now she has another tool in her fundraising kit.
Julia is going to use a personal fundraising web page to spread the word and raise funds for Cincinnati Children's online. The web page is part of Giving Hope, a new community fundraising program from Cincinnati Children's that gives friends, like Julia, tools and support to execute their fundraisers.
Visitors to Julia's personal page can support her event with a gift directly to Cincinnati Children's, leave messages of support and easily share information on their social networks.
"The Giving Hope program will make it easier for me to set my events up and promote the parties," Julia says. "Hopefully, my friends will see the many ways they can get involved at Cincinnati Children's, and they'll be inspired to start their own fundraisers!"
The Giving Hope program offers many other tools, too, that can be used by individuals, schools, businesses or anyone who wants to make a difference for the patients and families of Cincinnati Children's. Funds raised can be designated to a certain area or division within the medical center, or can support our most pressing needs.