In the News
Ryan Seacrest (from left), Jason Derulo and Drew Lachey were on hand for the opening of Seacrest Studios. 
Seacrest Studios Connects, Inspires Patients 
"You are not alone in this," sang Elizabeth, a patient at Cincinnati Children's, when she joined stars Ryan Seacrest, Jason Derulo and Drew Lachey for the opening of Cincinnati Children's Seacrest Studios. Operating as WKID Channel 33, Seacrest Studios is a closed-circuit television and radio station that broadcasts entertainment and educational programming throughout the hospital. It allows patients who are unable to leave their rooms the opportunity to virtually interact with what is happening in the studio. 
One of six Seacrest Studios nationally, the studio and its equipment were a gift from the Ryan Seacrest Foundation, which seeks to help children through entertainment and music. The foundation also partners with celebrities and schedules them to visit the studios. They read books over the air, answer questions from patients and even play games in the hospital. 
"The staff and the children here are a constant source of inspiration and courage, and we hope that Seacrest Studios will serve as a creative outlet and healing opportunity for the patients and their families during their stay," Ryan Seacrest says. 
Elizabeth, who received a heart transplant at Cincinnati Children's, remembers what she went through during her hospital stay, and hopes WKID will help patients cope with illness and recovery. 
As for her selection for the first live performance on WKID, Elizabeth says, "I chose to sing 'Timshel' by Mumford & Sons, because I love the message of the song, and I thought it was fitting for the event. You are not alone in this, as brothers we will stand and will hold your hand. 
"That is what I hope the patients will feel while watching or participating in WKID 33. I hope that they will be reminded that they aren't alone in their journey, no matter how hard or long it might be." 
Giving Hope to Alexis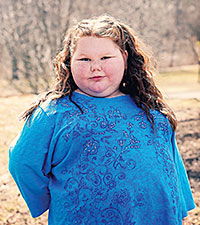 Alexis and her family received national attention for her struggle to find healthcare coverage for a life-saving surgery. Her story began two and a half years ago when Alexis woke from surgery in a Texas hospital to remove a non-cancerous brain tumor. Either the tumor or the surgery to remove it damaged the hunger-regulating function of her brain, making Alexis think she was starving. 
Trying to satiate her hunger led to hypothalamic obesity and she gained an average of 2 pounds per week. Alexis and her family turned to Cincinnati Children's for our expertise in pediatric obesity. Together, her care team and family decided Alexis needed a sleeve gastrectomy, which removed 80 percent of her stomach. The surgery helps her feel full after eating small meals, reduces hunger and gave her metabolism a boost. 
Just days after the surgery, Alexis no longer needed her diabetes medication, lost weight and was better regulating her hunger. Today, she continues on her healthier path.