Cost Efficient Improvements in Pharmacogenomic Haplotyping
Principle Investigators: Matthew Hestand, PhD, & D. Brian Dawson, PhD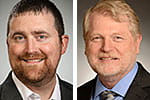 Pharmacogenomic testing is vital for prescribing appropriate drug dosages and is the most frequently run molecular genetic test at Cincinnati Children's. However, many relevant genes are plagued with pseudogenes, copy number variants, and complex structural variants that make them difficult to analyze with current technologies.
The enzyme produced by the most important pharmacogene, CYP2D6, is responsible for metabolizing 25% of commonly prescribed medications. More than 100 haplotypes (combinations of genetic variants) have been described that affect the enzyme's metabolizing capability. However, a pseudogene and common copy number variations limit current assays to targeted genotypes. Haplotypes, therefore, must be imputed, which can be incorrect up to 10% of the time, as well as can miss non-targeted variants in the gene. Newer single-molecule sequencing technologies overcome previous limitations and enable direct detection and phasing of variants since allele specific variants are in one long read.
Our research uses long-read technologies to develop cost-effective non-imputation based haplotyping methods. Once an improved test is designed for CYP2D6, we will expand to include other important drug response genes, leading to cost- effective, faster, and more complete pharmacogenomics sequencing-based diagnostic analyses which will have a direct impact on patient care.