Transcriptomic and Phosphoproteomic Landscapes Delineation in TKI-Refractory ALL
Principle Investigator: Nicolas Nassar, PhD, Experimental Hematology & Cancer Biology, Drug Discovery Program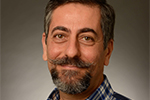 Philadelphia-positive (Ph+ ) and Ph-like B-cell acute lymphoblastic leukemias remain poor prognosis diseases. The introduction of selective tyrosine-kinase inhibitors (TKIs) for the treatment of Philadelphia chromosome positive B-cell acute lymphoblastic leukemia (Ph+ B-ALL) has improved patient outcomes and, consequently, management of this disease. Dasatinib is now the treatment of choice for most newly diagnosed patients. Excellent responses, in terms of symptom control and hematological parameters, usually are obtained. However, failure to completely eradicate leukemic cells has led to an intensive search for the mechanisms of resistance and subsequent treatments to overcome this resistance.
We developed IODVA1, a VAV3/RAC small molecule inhibitor. IODVA1 is superior at prolonging the survival of genomically diverse patient-derived xenograft (PDX) models of recurrent/relapsed Ph+ and TKI-resistant Ph+ BCR-ABL1(T315I) than FDA-approved ABL1-TKI dasatinib and ponatinib, especially after therapy withdrawal. It also synergizes with ponatinib. It induces apoptosis of chemotherapy-resistant/relapsed Ph+, Ph-like, and AML patient-derived cells obtained from the avatar collection at Cincinnati Children's without affecting normal stromal cells. Mechanistically, IODVA1 acts to suppress VAV3 activity under BCR-ABL1 oncogene, which leads to elimination of leukemia-initiating/propagating cells and better overall survival in WT and TKI-resistant Ph+ B-ALL. In addition, IODVA1 is also active in oncogenic RAS models of human breast and lung cancer xenografts.
With this project, our objectives are to use unbiased transcriptomics and phospho-proteomics approaches to better understand the mechanism by which IODVA1 sensitizes leukemic cells and progenitors to apoptosis, prevents their infiltration out of bone marrow, and overcomes TKI-resistance, as well as to identify molecular signatures/biomarkers that warrant patient response and that can be used in future clinical trials. Data generated will enable patient stratification, development of novel treatment strategies with better outcomes, and also help us understand the mechanism of action of our drug.