Preventing Infant Mortality
Infant mortality rates in Cincinnati and Hamilton County are almost double those of the rest of the nation. On average, one baby dies every three days.  Though the reasons  are unclear, at Cincinnati Children's we believe that the key to improving these outcomes lies in the intersection of health services and the improvement of social conditions for high-risk pregnant women.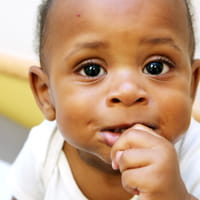 The medical center has made the reduction of infant mortality a strategic priority, and together with our community partners, we are committed to improving birth outcomes across the county.     
Infant mortality, the death of an infant before his or her first birthday, is a fundamental marker of community health and well-being.  Poor birth outcomes, including premature birth, which is the leading cause of infant death, are costly.  Millions of public and private dollars fund preconception and prenatal care, mother and infant hospitalization and social services. Scores of agencies and providers participate in the care of women and infants in our community in a less than coordinated way. 
Infant mortality:
Is only one indicator of child health. There are about 4,000 high-risk births a year in Hamilton County; more than 200 children have lifelong handicaps and 1,000 have prolonged, high-cost hospitalizations. 
Is a health system indicator because it reflects on the health of women and men of child-bearing age (preconception care) and the health of pregnant women (prenatal health) and children (newborn and infant care). 
Shows marked racial, demographic and geographic disparities. In particular, African Americans are disproportionately affected by high infant mortality, and in Ohio, a black infant is 2.5 times more likely to die in the first year of life compared to a white infant. 
The medical center's goal for 2015 is to reduce infant mortality by 30 percent, focusing initially on births in one high-risk geographic population within Hamilton County. Price Hill is a community with an elevated rate of prematurity − the leading cause of infant mortality in Hamilton County. We will begin to develop effective interventions that can be replicated throughout the county. Strategies for reaching our goal will include improving access to early prenatal care and implementation of a bundle of care that addresses the social determinants of preterm birth (smoking cessation, nutrition, stress reduction).