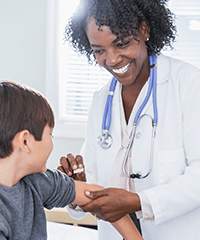 The Infection Prevention and Control Program, within the Division of Infectious Diseases, creates safe practices that reduce the risk of healthcare-acquired infections during the process of care. To do this, we collect health-related data, ensure compliance within all aspects of care delivery, and collaborate with a variety of Cincinnati Children's safety and regulatory areas.
Our Program at Work
Patients and families can see our program at work in a number of ways including:
The respiratory etiquette stations which give visitors access to hand hygiene products.
The oversight of your child's isolation due to a certain illness. This simply means taking extra precautions to prevent further infections.
Administering a free flu vaccine for caregivers of our patients. This is available during flu season for those 18 and older, beginning in October and until supplies last.
We also collaborate with healthcare professionals inside and outside of Cincinnati Children's.
Within Cincinnati Children's we work to prevent infections, add or remove isolation flags, ensure patient care equipment is reprocessed accordingly, and monitor infection prevention-related construction and building activities.
When working with outside institutions, we share practice guidance, develop and improve processes, and complete external reporting.