Current Projects
The Role of Innate Immune Activation in DDX41-Mutant MDS
One of the functions of DDX41 is as an immune sensor to activate innate immune reactions against pathogens. When DDX41 encounters double-stranded DNA or other bacterial byproducts in the cell, it can bind and activate the innate immune hub protein STING, which activates a cascade of signaling for the cell to release cytokines and other molecules that cause inflammation.
In this project, we are exploring how this function of DDX41 might contribute to development of myelodysplastic syndrome. We know that innate immune activation through other proteins is involved in MDS and thus we hypothesize that dysregulation of STING signaling by loss of DDX41 function causes blood cell defects that lead to MDS pathogenesis. We are using mouse modeling to determine the role of innate immune activation in blood system defects caused by DDX41 mutations.
Grants – K01DK121733 Career Development Award from NIDDK. 2018-2022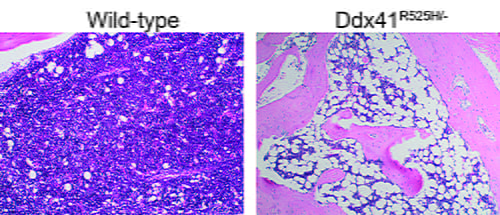 A section of the bone marrow of a mouse with two mutations in DDX41 compared to normal mouse bone marrow (wild-type).
---
The Role of Ribosome Biogenesis Defects in DDX41-Mutant MDS
Our lab has recently discovered that blood cells with two DDX41 mutations have defects in the formation of ribosomes, which are the cell's machinery for making new proteins. Due to a defect in protein synthesis, blood progenitor cells bearing these mutations cannot proliferate to form new blood cells. Thus this combination of mutations causes blood system failure, but it does not cause blood cancer by itself and additional mutations in other genes are likely required for these cells to grow and become cancerous.
In this project, we are using mouse models and human induced pluripotent stem cells to model the genetics of patients in order to determine the combination of mutations required to generate cancerous blood cells bearing two DDX41 mutations.
Grants – Edward P. Evans Foundation EvansMDS Young Investigator Award. 2020-2023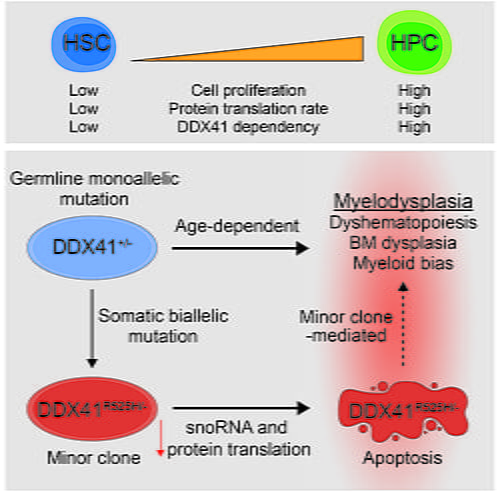 DDX41 is required for ribosome formation and efficient protein translation. Biallelic mutations in DDX41 cause blood stem cell defects that likely contribute to MDS development.