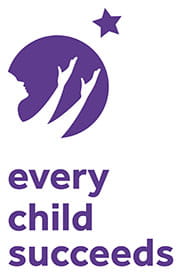 The Every Child Succeeds Story
Every Child Succeeds was founded in 1999 to support mothers and young children in Greater Cincinnati during the most critical years of development – birth to age three. Since then, Every Child Succeeds has built relationships with more than 27,000 families in Southwest Ohio and Northern Kentucky changing families' trajectories.
Our Mission and Values
Every Child Succeeds provides an optimal start for children by promoting positive parenting and healthy child development prenatally and during the important first 1,000 days of life.
We believe all children deserve an optimal start, all parents want to be good parents, and what we do and how we do it matters.
Our Families
Our families live in Butler, Clermont, and Hamilton counties in Southwest Ohio; Boone, Campbell, Grant, and Kenton counties in Northern Kentucky. They include families living in under-resourced neighborhoods and are diverse. We work with families across different races and ethnicities and welcome immigrant families as well. We have bilingual home visitors and interpreters to ensure we can support families whose first language is not English.
Our Services
Every Child Succeeds matches families with a home visitor. Home visitors work closely with pregnant women and new parents to support parenting skills, improve maternal and child health, create stimulating and nurturing home environments, and connect families with community supports. Home visitors may begin working with families during pregnancy and can continue until a child's third birthday. All services are voluntary.
Our partnerships with families result in:
More babies who are born healthy and on time;
More moms who feel empowered to advocate for their children;
Safer homes with high levels of stimulation and emotional support; and
Earlier detection of possible learning and developmental differences.
The Science
Parents are their children's first and most important teachers. Eighty percent of the brain is developed by the time a child turns 3 years-old. Our program is based on strong scientific evidence that a nurturing and stimulating environment is essential to support cognitive, social, emotional, and behavioral development.
Our unique approach of blending home visiting with scientific research is state and nationally recognized.