Why is Exercise Important for Children?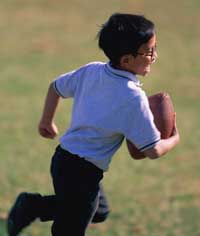 In the United States:
Seventy-six percent of children don't do enough daily exercise to be healthy.
Only 3.7% of schools have daily gym classes.
Exercise is an important part of keeping children healthy. Teaching healthy habits is important for when they grow older. Children who learn to enjoy exercise are more likely to be active adults. Making changes can be harder as a child grows older. The best way to build healthy exercise habits is for the whole family to be active.
Establishing an Exercise and Activity Plan
Daily exercise is a good way to spend time with family and friends.
Every day, children should do at least 60 minutes of exercise that is fitting for age, fun and involves different types of activities.
Choose activities that are aerobic and make bones and muscles stronger.
Daily exercise doesn't need to be done all at once. Your child can exercise 5-10 minutes at a time, throughout the day, to add up to 60 minutes.
Aerobic Activity

Strengthens Muscles

Promotes Bone Strength and Growth

Soccer
Running
Bicycling
Swimming
Dancing
Skating


Playing on playground
Climbing trees
Lifting weights
Resistance bands


Basketball

Skipping
Hopscotch


Jump rope
Aerobic exercise:
Continuous movement that makes your breathing and heart beat get faster.
Improves fitness and helps prevent heart disease.
Some exercise should be vigorous, where your child plays hard enough to get sweaty or out of breath.
Daily exercise is part of being healthy. Some children can exercise too much. If your child begins losing too much weight or if exercise interferes with school and other activities, talk with your child's doctor.
Benefits of Regular Exercise and Activity
The following are the benefits of regular exercise:
Improves blood flow
Helps with healthy weight
Improves cholesterol
Prevents and lowers high blood pressure
Improves energy
Improves sleep
Releases tension
Improves self-image
Helps manage stress
Helps lower anxiety and depression
Improves mood
Builds strong muscles and bones