Mom Saw Dangers of Avoiding Vaccines, Now Advocates for Shots
London Jordan is a mother of three and a strong advocate for vaccinating her children.
Years ago, when her son, Lakari, was an infant, he became very sick and had to be hospitalized at Cincinnati Children's.
"It was something that could've been prevented if I just would've took him to get his scheduled shots," she said.
After being admitted to the hospital, Lakari, now 9, was diagnosed with pertussis. He began his first round of vaccinations and, thankfully, was soon on the road to recovery.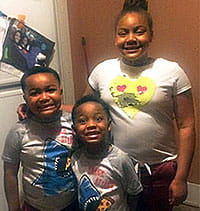 Lakari (left) with his older sister, Leiyah, and younger brother, Lakota.
London, meanwhile, made a parental decision: to stop listening to the bad advice she was receiving about vaccinations.
"After my son got sick and I had to have him hospitalized, I could not listen to somebody [else]," said Jordan.
This included Lakari's father. He had never been vaccinated in his life and at the time he was adamant that his son would remain vaccine-free, as well.
"He doesn't disagree with any vaccines I give Lakari, as of now," said Jordan. "He's a good co-parent. We're in a better place than we were eight years ago."
"Do You Get Your Kids Vaccinated?"
London, who is now a medical assistant in our Hopple Street clinic, sees many parents who remind her of her younger self – those who are unsure about whether to get their children vaccinated. Those unsure of the benefits.
"Sometimes the parents will ask, 'Do you get your kids vaccinated with the flu shot?' " And I say, 'Yeah. Every year the flu vaccine.' "
"I don't want to put my kids at risk," said London. "I don't even want to put them in that position. So I'm going to get them the flu shot just to be on the safe side. Better to be safe than sorry."
She estimates that less than half of the people she sees in clinic get the flu vaccine each year.
"People will ask for antibiotics but they won't get a vaccine. It doesn't make sense to me," said Jordan. "When people are stuck in their ways, how can you really change them?"
At the clinic, Jordan will talk to some parents but for the most part she leaves the vaccine education effort to attending doctors.
"But before I give a vaccine, I always let them know exactly what I'm giving them and exactly what is on the vaccination information fact sheet as well," said Jordan, who is attending nursing school, with plans of graduating next year.
While there are different reasons why parents will refuse vaccines, London said that oftentimes there is a generational element. Her advice is for parents to stay true to their own beliefs.
"If you have any feeling that vaccines might be good for your child, I say do it. Don't let anybody hold you back from doing that, even if it's family," said London. "It's not the grandparents' decision. It's your decision."
"Vaccines are important. They are one of the few things that we can count on," said Jordan. "If there's any hospital you are going to trust with your children, it's gonna be [Cincinnati] Children's."
(Published March 2021)