Furstein Research Lab
The Furstein Research Lab seeks to incorporate regional anesthesia into the pain management of pediatric and adolescent surgical patients. Our research is in the area of postoperative pain control, specifically focusing on the utilization of regional anesthesia to decrease postoperative pain in pediatric and adolescent patients having surgery on an outpatient basis.
---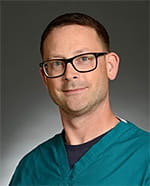 James S Furstein CRNA, CNP, PhD is a pediatric Certified Registered Nurse Anesthetist (CRNA). He is an Associate Professor and Assistant Program Director for the Nurse Anesthesia Program at the University of Cincinnati College of Nursing, where he is responsible for the didactic component of the curriculum covering pain, pain management, and regional anesthesia, in addition to providing hands-on instruction to students in a simulation environment. As Associate CRNA Director, he has been continually vested in the development the pain service at the ambulatory surgery center of Cincinnati Children's Hospital Medical Center, Liberty Campus. His work in pediatric regional anesthesia has led to him presenting invited lectures on regional anesthesia both locally and nationally.