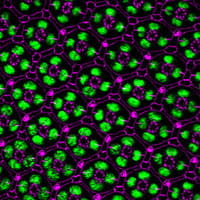 The Division of Developmental Biology at Children's Hospital Research Foundation of Cincinnati is dedicated to providing high quality training opportunities that will both enhance ongoing research within the medical center and stimulate further study in this area by future generations of researchers.
We offer strong pre- and post-doctoral training programs in contemporary developmental biology, training young physicians and scientists to use the most modern tools of molecular and cellular biology, and providing research opportunities for undergraduate and medical students. Faculty members within the division supervise the research training of numerous postdoctoral fellows, predoctoral students in the Molecular and Developmental Biology Graduate Program, graduate students from the neuroscience program, college undergraduate students in the division's Summer Student Program, and high school students. Moreover, the Division of Developmental Biology continues to coordinate the Children's Hospital Research Foundation and Molecular and Developmental Biology Graduate Program Seminar Series.
Support for research comes from a variety of national and institutional resources. Our students and postdoctoral fellows have procured research fellowships from the National Institutes of Health, the Juvenile Diabetes Research Foundation, the American Heart Association, and Foundation for Fighting Blindness. In addition, our graduate students have successfully obtained Ryan Fellowships, Yates Fellowships, and Distinguished Dissertation Fellowships from the University of Cincinnati and Choose Ohio First Awards from the state of Ohio. In addition, Faculty within the division of Developmental Biology have been instrumental in obtaining institutional training grants from the NIH focused on Organogenesis, Endocrinology, and Teratology. These training grants provide salary support for multiple predoctoral and postdoctoral fellows throughout Cincinnati Children's, and selected recipients present their work at our annual Developmental Mechanisms, Organogenesis, and Stem Cells Retreat.