Conveniently Located Care for Your Child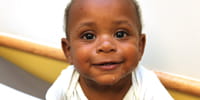 Regular primary medical care, including check-ups and immunizations, helps maintain your child's overall health. Our team of primary care physicians provides this care and more at our convenient neighborhood locations. And thanks to our close collaboration with other specialists at Cincinnati Children's, we're well equipped to provide more advanced care if your child needs it.
Pediatric Primary Care Centers
Our Pediatric Primary Care Center is located in Avondale at the Cincinnati Children's Burnet Campus. We also offer primary care at our Hopple Street Health Center in North Fairmount and Fairfield Primary Care Clinic.
School-Based Health Centers
Cincinnati Children's operates school-based health centers at Hughes STEM, Rockdale Academy and South Avondale.
Community Health Services Network
Cincinnati Children's also operates a variety of neighborhood primary care practices: