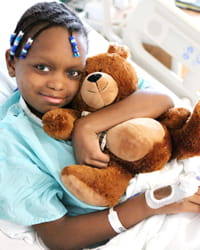 When a child in our hospital experiences breathing difficulties / respiratory issues due to an injury, surgical procedure or medical condition, staff with the Division of Respiratory Care are here to help.
Help Available Around the Clock
Children receiving care at Cincinnati Children's get the extra advantage of having our respiratory experts available around the clock.  Our respiratory care staff works with departments throughout the hospital and is available whenever patients experience breathing difficulties.
Conditions We Treat
Our patients range in age from newborns through adulthood. We specialize in treating conditions such as:
Pulmonary complications following surgery
Airway abnormalities, and
Cardiac malformations
Our staff serves as a vital member of the trauma and resuscitation teams. Our division is equipped to provide not only diagnostic testing and evaluation but patient and family education, as well.