Dedicated to Meeting Your Needs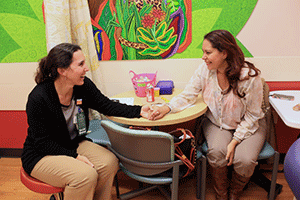 At Cincinnati Children's Hospital, our clinical social workers understand that managing any type of illness or hospitalization is a stressful experience. As members on every medical team, the clinical social workers provide ongoing support and counseling, crisis intervention, advocacy, education, and connection to community resources.
Who We Are
The clinical social workers are all licensed professionals who provide specialized expertise on the medical teams. We are guided by our core values which include promotion of self-determination, dignity and respect for all beliefs and cultures, and supporting the strengths of patients and families in their pursuit of health and wellbeing. There are over 150 clinical social workers within the Social Service Division at Cincinnati Children's Hospital serving patients and families through their inpatient hospitalization(s) and providing ongoing services in the outpatient settings.
What We Do
Families and caregivers with children that are coping with a medical condition can experience difficulties and hardships that impact their emotional, social, and financial well-being. Families and caregivers may also find challenges as they navigate through the complex medical system. The clinical social workers at Cincinnati Children's hospital provide comprehensive services to assist you through your journey. Your clinical social worker can assist you and your family with topics such as:
Emotional support and counseling to address how you and your family are coping with a catastrophic or chronic illness.
Family issues or conflicts
A new diagnosis
Crisis intervention
Care coordination and treatment planning with the medical team
Discharge Coordination
Grief, loss, or end of life issues
Safety concerns
Access to community resources
Resources to address financial difficulties
Contacting a Clinical Social Worker
You can contact the Social Service Division at 513-636-4711 during business hours which are Monday-Friday 8a-4:30p. The Social Service Division provides 24-hour clinical social work coverage seven days a week. If you need social work assistance after business hours, on the weekends, and/or on holidays, you may contact the hospital operator at 513-636-4200 and request to speak with the clinical social worker on call.
Your Privacy
In most circumstances, the communication you have with your social worker is kept in confidence. As a member of the interdisciplinary medical team, your social worker may share some of the information you provide to ensure the best possible care for you and the patient. There are situations that a social worker is required to disclose confidential communication. These situations include:
There is concern to believe that there is a risk for abuse and or neglect
There is a reason to believe someone poses a serious threat to harm themselves or others
There are legal orders mandating the release of information
If you have any questions about confidentiality, please ask your social worker.