Summer Internship Helps Minority Students Transition to College and Career
It's a big step for any student to move from high school to college, where student not only face new academic challenges, but also are expected to be more independent and responsible.
That first year can be tough, and minority students often have the hardest time making the transition.
African-Americans, similar to other underrepresented minorities received just 7 percent of all STEM bachelor's degrees, 4 percent of master's degrees and 2 percent of PhDs. (Source: National Center for Education Statistics, 2009)
Helping minority students who are interested in biomedical science make the transition successfully is the goal of the Biomedical Research Internship for Minority Students (BRIMS) Program at Cincinnati Children's.
"Cincinnati Children's wants to build the pipeline of minority researchers and physicians − and that pipeline starts in high school, "explains Cindy Bachurski, PhD, director of summer internships.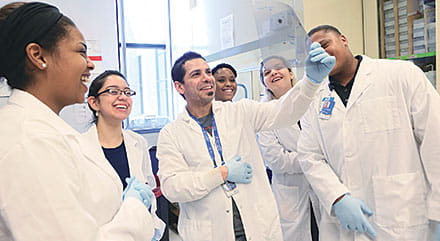 Jorge Munera, PhD, research fellow, presents a research finding to BRIMS students.
Summer Internship for Young Scientists
Since BRIMS was launched in 2010, about a half dozen high school students and some first-year college students have participated every summer. The young scientists work as full-time, paid research assistants, guided by mentors from the Cincinnati Children's staff. They learn basic research skills. They gain valuable work experience. And they lean about career choices available to them in medicine or research.
Olivia Jordan, a 2010 Mason High School graduate, was a member of the first BRIMS class. Her experience was a turning point that shaped her future direction.
Jordan worked with psychologists Monica Mitchell, PhD and Lori Crosby, PsyD, focusing on health disparities and community-based research. "I owe unlimited thanks to my mentors, "she says, "They gave me the opportunity to experience in clinical research and caring for patients. This has been the basis for what I've done since then."
In a project to reduce childhood obesity, Jordan taught elementary school children at Rockdale Academy in Avondale about healthy food choices and physical activities that promote health and fitness.
She found that she enjoyed combating childhood obesity and liked gathering and analyzing public health data. She also recognized that she might be a leader and role model for those who haven't had the resources, education or family support needed to lead healthy lives.
She decided to pursue a degree in philosophy, neuroscience and psychology. Today, after graduating from college in 2014, she's working as a clinical research study assistant at the Washington University School of Medicine and applying to medical schools for admission in 2016. All of the students who participated in the first BRIMS class of 2010 have graduated from college and have obtained jobs or are continuing their education.