Developing the next generation of clinical, academic, and research leaders in pediatric critical care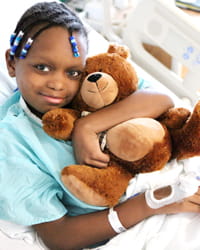 The Critical Care Fellowship at Cincinnati Children's is an ACGME-accredited three-year program dedicated to training fellows in state-of-the-art pediatric critical care medicine.
Training occurs in our 48-bed PICU and 36-bed CICU located in our brand-new state of the art critical care building completed November 2021. Fellows take care of over 2,750 admissions a year. Clinical supervision and education are provided by 16 board-certified critical care subspecialists and 8 critical care / cardiology subspecialists, as well as a vast array of pertinent subspecialists and subspecialty surgeons.
In addition, our program provides fellows with many opportunities for non-clinical scholarly activities, including training in basic science, clinical science, and translational research that spans bench to bedside, quality improvement and informatics, simulation and education, and advocacy. Opportunities are also available to pursue advanced degrees through the University of Cincinnati.
Cincinnati Children's is a top hospital in the country for pediatric care. Many of our subspecialties are ranked in the Top 10 of their respective fields. Supporting all of these subspecialties is the Pediatric Intensive Care Unit – caring for children from all over the hospital, all over the community, all over the country, and all over the world. Our critical care fellows are vital to the process of care at Cincinnati Children's Hospital.
Our Facilities
Cincinnati Children's serves as the primary children's hospital for Southern Ohio, Northern Kentucky and Eastern Indiana as well as serving as a quaternary national and international referral center for many subspecialty medical and surgical teams. The breadth of the clinical experience at Cincinnati Children's covers the full range of life-threatening medical disorders; we care for children and adolescents with severe trauma and needing liver, small bowel, kidney, heart or bone marrow transplants as well as children requiring complex airway reconstruction, cardiothoracic and neurosurgery, craniofacial reconstruction, ECMO and many other services. Our program provides an unmatched clinical experience to prepare fellows for academic careers in Pediatric Critical Care Medicine.
Our new critical care building adds approximately 635,000 square feet and 249 new beds dedicated to the care of critically ill children. The PICU`s new state of the art environment allows for not only cutting edge critical care but allows for innovative training and research.
Learn more about the new critical care building.