Human Genetics Fellowship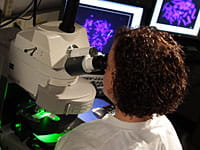 The Division of Human Genetics at Cincinnati Children's is the largest pediatric genetics program in the nation. Along with our pediatric service, we provide high-level care to adults through the Hypermobility Clinic, Prenatal Program and Hereditary Cancer Program. Thanks to this combination of size and diversity of services, we can offer fellows unparalleled training and experience in this exciting field.
We have been approved by the American Board of Medical Genetics and Genomics to provide fellowship training in clinical biochemical genetics and Laboratory for Genetics and Genomics (LGG). Biochemical genetics is a two-year program, and LGG is a three-year program with training in Clinical Cytogenetics, Clinical Molecular Genetics and Bioinformatics.