Hospice and Palliative Medicine Fellowship
The Pediatric Palliative Care Program (PACT) is an academic division within the Department of Anesthesia at Cincinnati Children's. The palliative care division provides ongoing teaching and support to the pediatric residency and fellowships offered at Cincinnati Children's and offers an ACGME approved fellowship in Pediatric Palliative Medicine.
The entire physician faculty within the pediatric palliative care division holds medical staff appointments at Cincinnati Children's as well as at the University of Cincinnati School of Medicine. All are active teachers within the core pediatric residency program as well as their respective subspecialty fellowship programs. These physician faculty members work directly with the educators in the field of nursing, social work, chaplaincy, child-life, and bereavement support.
Our Team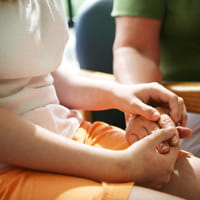 The Pediatric Palliative and Comfort Care Team is an interdisciplinary team that collaborates with the primary medical team, chaplaincy, child life and bereavement support to offer services that include primary medical management, consultation and home-based services for children of any age with life-threatening illness (prenatal to adult) and their families. The team offers these services at the request of the patient, the family, or any member of the health care team. The goal of care is to improve end-of-life care for children; assist families with difficult decision making; support a family's values and preferences; treat and/or prevent symptoms common to children and young adults with life-threatening illness; provide emotional and spiritual support to the child, family and healthcare team; arrange for home care and hospice services. Following initial consultation, the patients and families are offered ongoing, longitudinal involvement from PACT. In addition to the direct patient/family involvement, PACT works with other healthcare providers and hospice agencies to build a supportive network of care spanning the child's life and death.
The role of the fellow will transition quickly from participant observer to primary physician contact, always with the direct supervision and guidance of the attending PACT physician. Specifically, this clinical experience involves daily clinical rounds, bi-weekly interdisciplinary team rounds, inpatient consultations, phone consultations, and home visits when appropriate. All cases are supervised, reviewed, and discussed with the fellow on a daily basis.