Professor, UC Department of Pediatrics
Co-Director, Genetic Counseling Graduate Program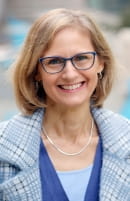 Melanie Myers has a broad background in public health genomics with specific training in genetic counseling, public health, social and behavioral sciences, and applied epidemiology. She is board certified in genetic counseling and worked in Seattle and Baltimore in prenatal and cancer genetic counseling settings.
Myers obtained her PhD in public health from the Johns Hopkins School of Hygiene and Public Health.
Some of her interests and responsibilities with the Genetic Counseling Graduate Program include directing research training for graduate students, ensuring compliance with institutional / accreditation requirements, and developing and implementing a funded research program. Myers' research interests include the integration of genomic technologies into public health research and practice to improve population health.
She has conducted population-, clinic- and community-based research using both quantitative and qualitative methodologies. Her recent funded research activities have included adolescent decision-making about genetic testing, patterns of communication about disease risk among families at increased risk of type 2 diabetes based on family history, and the use of family health history as a genomic tool to promote health and prevent disease.
Prior to joining the Cincinnati Genetic Counseling Graduate Program, Myers worked in the Office of Public Health Genomics at the Centers for Disease Control and Prevention (CDC). While there she led a multistate investigation to monitor the impact of the first direct-to-consumer marketing campaign for genetic testing for breast and ovarian cancer susceptibility (BRCA1/2).
Myers also served in the Epidemic Intelligence Service (EIS) in the National Center of Birth Defects and Developmental Disabilities at the CDC. As an EIS officer, she participated in several outbreak response teams, including Stop Transmission of Polio Team 9 in Bangladesh, the New York City Anthrax Team, the World Trade Center Terrorist Attack Response Team, the Dengue Fever Outbreak Response team in Maui and Kauai, Hawaii, and the West Nile Virus Response Team in Long Island, NY.