Music Therapy Internship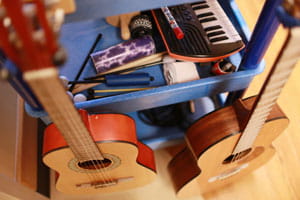 Our music therapy program, just one part of the Creative Arts Therapies department, serves patients from newborns to young adults, with exceptions going into adulthood due to the very specialized care offered at Cincinnati Children's.
At Cincinnati Children's, music therapists work in the inpatient medical hospital, the mental health facility, and in our in-home hospice and palliative care program. Because of the broad spectrum of our music therapy program, we are now able to offer music therapy internships at our two primary sites: Burnet Avenue medical campus and our College Hill mental health campus.
Internship Overview
Both music therapy internships are 6 months long (1040 hours) and are each offered once per year (start dates are flexible within late summer / early fall months). This internship is available to students who have completed coursework at an AMTA approved music therapy program and are deemed eligible to begin internship by their academic director.
The intern should expect to accumulate professional clinical experience through a diverse spectrum of multi-disciplinary and multi-cultural patient and family- centered care. Interns will have support in further developing their clinical musicianship, with an emphasis on music technology. They will have opportunities to explore areas of interest through special projects.
Interns will work primarily at our Burnet Avenue medical campus OR our College Hill mental health campus.
At the medical campus, the music therapy team concentrates on the following inpatient units: Rehabilitation, Transitional Care, Bone Marrow Transplant, Hematology / Oncology, Cardiology, Cystic Fibrosis, Neurology, Neonatal Intensive Care, Cardiac Intensive Care, and Pediatric Intensive Care. Interns will have opportunities for group facilitation. Interns will have the opportunity to observe at the mental health campus and the in-home hospice program.
At the mental health campus, the music therapy team serves children and adolescents in the inpatient and residential programs. Music Therapy occurs in group and individual settings. Interns will have the opportunity to observe at the medical campus and the in-home hospice program.
Upon acceptance to the internship, a legal affiliation agreement between the student's university and Cincinnati Children's is required. This will be handled by personnel at the hospital and the legal department of the university. Interns will not be allowed to start their internship until this agreement is complete. Students will also be required to complete a TB test CPR training and be fingerprinted when they receive their badges. The intern will be responsible for the cost of the TB test, CPR training and fingerprinting.
Description of Professional Staff
The student will be working with a broad spectrum of medical professionals throughout the internship. They will interact with our seven music therapists, as well as Child Life staff, social workers, chaplains, doctors, surgeons, nurses, PCA's and PCF's, administrative consultants, therapists, psychologists, psychiatrists, and all other medical center staff who the student may come into contact with throughout their time in the medical center.
Intern Housing, Meals and Transportation
Housing is not currently offered by this facility, but there are a variety of short-term lease options available in the area. Cincinnati Children's does not currently offer a stipend or meals for interns. For transportation needs, Cincinnati has an extensive bus system that provides services throughout greater Cincinnati and Northern Kentucky.
Liability Insurance
If the intern is affiliated with an academic institution, liability insurance is usually covered by the educational institution. If not, liability insurance must be purchased by the intern. In this instance, the intern will be guided to possible liability insurers for interns.
Health Forms Required
All accepted students are required to submit required health forms including immunizations and a COVID-19 vaccination record to participate in the program.