The Quest for a Cure
Family turns loss into a mission to fund research and care for brain tumors.
Calvin's eyes light up with an idea. The 11-year-old nods at a stop sign 300 yards away, readies his foot on the pedal of his bike and glances at his twin brother Max. "First one there wins," he challenges. The boys are off—laughter echoing throughout their quiet neighborhood street.
Julia, their mom, looks on reflectively. It's been a long journey to get to racing bikes.
When Calvin was only 2 years old, he vomited often and was having difficulty balancing. Julia and her husband Eddie saw their pediatrician who recommended they come to us for an MRI.
The test revealed a devastating discovery—Calvin had a cancerous brain tumor. "I was with Max when Eddie called from the hospital," Julia recalls quietly. "And I was absolutely in shock."
The next day, Calvin had an 11-hour surgery to remove the tumor—called a medulloblastoma. It's the most common cancerous brain tumor in children and, luckily, has a known treatment available. Unfortunately, it was still a long journey for this family.
Calvin spent weeks recovering in our ICU and started an intense chemotherapy treatment to make sure the cancer was gone. "Every single person at Cincinnati Children's helped us get through this," Julia says with a smile. "Everybody was so nice and would stop by and check on us. We'd have social workers sit in Calvin's room just so I could run to the cafeteria and get a cup of coffee."
It was 18 months from the initial diagnosis to the last round of chemotherapy, and Calvin just celebrated eight years of being cancer-free.
"We're so grateful to have one of the greatest hospitals in our backyard," Julia says. "I've met some families that lost their kids to cancer. I know I'm lucky."
The Cure Starts Now
Thanks to advancements in research, today we can cure most kids with cancer, but we won't rest until we can cure them ALL.
When Brooke and Keith's daughter Elena was 5, she was diagnosed with an incredibly rare, terminal brain tumor found mainly in young children called diffuse intrinsic pontine glioma (DIPG). Her parents were crushed to learn there weren't many treatment options available for their precious girl.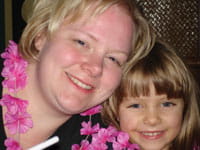 Our team cared compassionately for Elena and never stopped looking for the next innovation.
"They searched to find any treatments or new studies that we could use to help slow or stop the growth of Elena's tumor," Brooke shares quietly. "They were determined to help us as much as possible."
Heartbreakingly, Elena passed away within a year of her diagnosis. Brooke and Keith wanted to make sure that other families battling DIPG always had hope. So they started a nonprofit foundation called The Cure Starts Now to fund research and new clinical trials.
It was founded with the laser focus of solving the mystery of cancers that are immune to treatment and have the highest death rate. And by doing that, we'd unlock more information about how to treat all tumors.
What started as a way to honor Elena's memory has grown into a movement over the last 13 years. The Cure Starts Now has raised more than $15 million to fund pediatric brain tumor research.
Driving Worldwide Innovation
The Cure Starts Now has supported innovative studies with global partners, but there's a special relationship the family has with the team that went above and beyond for their little girl.
Brooke proudly says, "We sat down with the experts from Cincinnati Children's to talk about a roadmap of how best to try to get to a cure."
But there was a huge barrier in place. Since DIPG is so rare, hospitals may only see a few cases a year—if any at all.
There was a need for a centralized infrastructure for care providers of patients with this devastating disease. The Cure Starts Now partnered with our team to create the DIPG Registry. This helps physicians find commonalities about symptoms through different genetic markers.
"This is about creating a new and different way to attack DIPG and other rare, lethal cancers," says John Perentesis, MD, FAAP, director of our Division of Oncology. "By working together, we can move this important work forward and one day lead us toward a cure."
Moving our Mission Forward
In recognition of our longstanding partnership with the organization, last year we renamed our center to The Cure Starts Now Foundation Brain Tumor Center. Because of their collaboration, we can continue to expand the DIPG Registry as well as dedicate financial support to further innovations and specialized research.
"It's here that we'll continue to move our mission forward: to attack these terrible diseases from the bench to the bedside," Dr. Perentesis says with conviction, explaining the goal of quickly taking groundbreaking discovery from the lab to directly benefit patients. "We're so grateful for The Cure Starts Now's support and don't take their trust in us lightly. There's much work to do, and the battle is far from won."
Every Child Deserves to Thrive
"Cincinnati Children's truly gives families a fighting chance," Brooke declares. "And what I'm forever grateful about our partnership is that they always put patients and their families first in trying to find that cure."
Our shared goal is to see more kids thrive like Calvin—to get a chance to ride bikes and laugh with siblings.
These days, he loves graphic novels, swimming and cooking with his family—especially when his oldest brother Ben comes home for a visit.
As a toddler, Calvin charmed everyone at the hospital, and he hasn't grown out of that. "He's such a connector," his mom says, "He's funny and he never has trouble making friends."
The bike race is over as the twins tease each other on who won. Julia puts her arms around her boys and gives them a squeeze. She says confidently, "Cincinnati Children's saved Calvin's life. We're grateful for every moment we have as a family."
For more information on how you can support our brain cancer research and care, please contact Kasey Fischesser at kasey.fischesser@cchmc.org or 513-636-4221.