What Are Signs of Shunt Malfunction?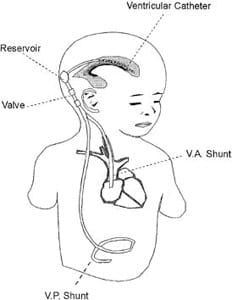 Cincinnati Children's Hospital Medical Center provides the following warning signs of shunt malfunction:
Headaches
Vomiting
Lethargy (sleepiness)
Irritability
Swelling or redness along the shunt tract
Decreased school performance
Periods of confusion
Seizures
Shunt Malfunctions
If your child becomes very ill (persistent vomiting, extreme sleepiness, severe headache), seek medical assistance immediately.
Call your child's doctor if you think that your child is having a shunt malfunction based on the symptoms described above.
Remember that you may see only one or two warning signs at a time. You will not see all of the signs at one time. Call your child's doctor if you notice one or more of these signs in your child.
Call your doctor if vomiting and lethargy occur without fever or diarrhea. You may be instructed to first be seen by your primary medical doctor to assess for another illness.
DO NOT PUSH ON OR PUT PRESSURE ON THE SHUNT.
You may be sent for a head CT before seeing a member of the neurosurgery team.
Related Topics