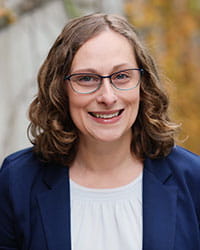 The Shaffer Lab focuses on emotion dysregulation in neurobehavioral conditions including autism spectrum disorder (ASD), fragile X syndrome, and intellectual disability. Emotion dysregulation in ASD leads to higher rates of suicidality and inpatient hospitalizations, making it a critical need for treatment research.
Our lab created Regulating Together, a group treatment program for emotion dysregulation for youth and their caregivers.
We are also committed to including diverse participants in research including a wide range of racial, ethnic, and socio-economic status groups. In addition, our lab is a site for several large phenotypic and genetic ASD studies including SPARK, the largest genetic study of ASD.
About
I am a clinical psychologist and associate professor of pediatrics in the Division of Behavioral Medicine and Clinical Psychology at Cincinnati Children's. Learn more and meet the team.