Years After Brachial Plexus Surgery,    Ben is Thriving at Home and School
According to his mom, Ayesha, Ben is doing great years after surgery:
"Ben is a well-rounded child who continues to thrive both at home and at school. He likes gym class, band practice, swimming, and the martial arts. He also enjoys playing video games, watching movies, and hanging with his friends when he is not busy with homework. Ben has never allowed his physical challenges to hold him back or keep him from having a full and fun life with his family and friends." (Updated November 2018).
Original Story: Benjamin Has an Early Surgery
Benjamin Gaya was born with a brachial plexus injury following a difficult labor and delivery. His left arm was completely motionless. In order to gain the use of his arm, Benjamin had surgery at 3 months to repair his damaged nerves at the Brachial Plexus Center at Cincinnati Children's Hospital.
An Unexpected Birth Experience
After giving birth to four healthy children with no birth complications, Ayesha Gaya did not expect to have any problems delivering her fifth baby.
However, when the baby's shoulder became stuck in the birth canal and his heart rate began to decrease, Ayesha's caregivers focused on getting her baby out quickly to avoid serious complications.
After physicians delivered the baby, Ayesha and her husband, Kennedy, immediately noticed their newborn's left arm was limp. The hospital staff told them to wait a few days to see if he would begin to move his arm.
After three days, Benjamin's arm remained motionless—unless someone picked it up and gave support, the arm would fall to his side. Then, they were told Benjamin had a brachial plexus birth injury, which meant the nerves that control his arm and hand were damaged. The family was advised by hospital staff to wait six months to see if the nerves controlling his arm would begin working.
Fortunately, Benjamin's pediatrician in their hometown of Dayton, Ohio, knew the importance of early treatment for brachial plexus injuries.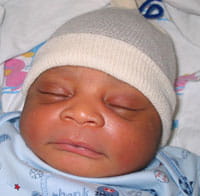 Benjamin Gaya at 1 day old.
Finding Help
At Benjamin's first pediatrician visit when he was about 1 week old, Ayesha and Kennedy were advised to take Benjamin to Cincinnati Children's Brachial Plexus Center for an evaluation as soon as possible.
The pediatrician faxed a referral letter, and on the next day Ayesha received a call from the Brachial Plexus Center to schedule Benjamin's appointment to be seen by the multidisciplinary staff of brachial plexus injury specialists.
At 1 month old, Benjamin and his family visited the Brachial Plexus Center for the first time. A plastic and reconstructive surgeon, orthopaedic surgeon, and occupational therapist examined Benjamin.
The team and family observed Benjamin's arm over the next two months. When Benjamin showed no improvement, the team recommended that he have nerve surgery at 3 months of age to repair his damaged nerves.
At 3 months old, Ayesha said it was difficult to think about Benjamin having surgery because he seemed so tiny and young. Luckily, Ayesha realized the importance of the timing. Because damaged nerves should be repaired within the first 6 months of the injury, this was the best choice for Benjamin to have a chance at recovering use of his arm and hand.
Surgery at 3 Months Old
The day of Benjamin's surgery, Ayesha learned that watching your child go through surgery is more difficult than she ever imagined. Even though Ayesha is a critical care nurse who sees children undergo surgical procedures daily, she said, "It is a whole different world when it is your child."
While Benjamin underwent surgery to repair the damaged nerves, Ayesha was nervous and restless. "I must have driven my husband crazy," she laughs now. "Waiting for the surgery to be over was the most difficult part for me."
Ayesha appreciated the support they received from Benjamin's team of health care providers.
Before the surgery, the surgeon explained in detail how he was going to remove nerves from Benjamin's leg to replace the damaged brachial plexus nerves that controlled his arm and hand.
During the surgery, the staff gave them updates on how things were going in the operating room.
After the surgery, the surgeon met with Ayesha and Kennedy again to give them more information about the extent of Benjamin's nerve damage and how the surgery went.
A Lesson in Patience
For Ayesha, the most challenging part of Benjamin's brachial plexus injury was the waiting. She says, "You don't know what patience is, until you have to wait for something like seeing if your child will be able to move his arm and hand."
Because nerves regenerate slowly, Benjamin's family would wait to see what function he would regain.
When Benjamin was 6 months old, his big sister told their parents that she had seen Benjamin move his arm. At first, Ayesha couldn't believe it—the news was too good to be true, and she was afraid to get her hopes up. She thought, "Am I imagining this? Do I just think he's moving it because I want him to be able to move it?"
There was no denying that Benjamin was moving his arm when he began raising it over his head. First Benjamin regained the use of his shoulder and upper arm, followed by his wrist, hand and fingers.
Getting Stronger
Benjamin has very good range of motion—he can move his arm as well as a child without a brachial plexus injury.
His ability to use his fingers has come more slowly, but is continually improving. The minor limitations he has with his left hand do not stop Benjamin from doing anything a typical child his age would do, such as ride his toy scooter. "Benjamin does everything all the other kids his age are doing," Ayesha said. "He doesn't let his injury slow him down at all."
A Positive Attitude
Ayesha and Kennedy are grateful for the peace of mind that the Brachial Plexus Center at Cincinnati Children's has given them. "We felt that we couldn't control everything about this injury, but we could make the best decisions for our child and give him the best chance at gaining use of his arm. Knowing we are doing everything we can for him by bringing him to Cincinnati Children's makes us feel good as parents."
The Gaya family is thankful every day to have Benjamin in their life. We are so happy to have a baby, period," says Ayesha. "Having an arm injury doesn't stop you from being a good human being. And that is what is most important to us as we raise our children."