About the Program
Cardiac rehabilitation is a medically supervised program designed to optimize a patient's cardiovascular function, self-confidence, nutrition, and daily living habits for leading heart-healthy lives.
Our program is designed to: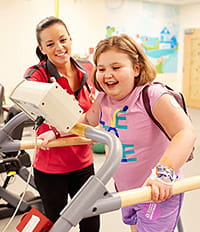 identify, modify, and manage risk factors
alleviate/lessen activity related symptoms
educate about management of heart disease
improve quality of life in patients
This includes physician-prescribed and developmentally-appropriate exercise and physical activity goals, patient and family education, psychosocial assessment, nutrition assessment, and outcomes assessment.
Treatment Plans
In concert with the medical staff, our exercise physiologists develop an individualized treatment plan specifically designed to optimize fitness, nutritional, and social goals.
Treatment plans are developed based on:
A series of initial assessments that include a cardiopulmonary exercise test (CPET)
Six minute walk test
Sit to stand test
Arm curl test
Hand grip test
Sit and reach measurements.
The CPET is conducted before and after the cardiac rehabilitation program to document improvement while the other assessments are done every 30 days in order to modify the patients individually prescribed program based on the patient's progress.