Personalized Care for Langerhans Cell and Other Histiocytic Disorders
The Cincinnati Children's Histiocytosis Center provides comprehensive treatment for patients with Langerhans cell histiocytosis (LCH) and related histiocytic disorders. We offer leading-edge therapies that can change lives and give new hope for families.
The Histiocytosis Center cares for children, adolescents, young adults and, in some cases, older patients with LCH and related diseases. We treat patients from across the country and around the world.
Our team has doctors and specialists who are leaders in their field. It includes pediatric hematologists / oncologists, pathologists and radiologists who all specialize in LCH and histiocytic disorders. We also have a dedicated care manager who helps coordinate second opinions, appointments and treatments for our patients.
Innovative Treatments Developed at Cincinnati Children's
We have spent years treating patients with LCH and histiocytic disorders, many of whom were turned away from other hospitals or told they did not have any treatment options.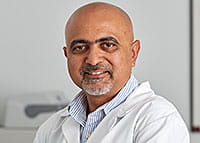 Dr. Kumar
The standard therapy for LCH and histiocytic disorders, chemotherapy, is not often effective — 30% of patients relapse after one year, and 15% to 20% of patients don't respond to the treatment. Knowing that the standard therapy does not work for many patients, Ashish Kumar, MD, PhD, a physician-scientist at Cincinnati Children's, has been exploring a new treatment approach that is a game changer for children with LCH and histiocytic disorders.
In 2014, Kumar started treating an infant with LCH who did not respond to multiple rounds of chemotherapy. While some of the child's organs responded, his liver numbers remained abnormal.
After two years of failed treatment, Kumar decided to try something new. He remembered learning about promising gene inhibitor treatments for melanoma and pediatric brain tumors. The gene inhibitor, dabrafenib, blocked the BRAF gene mutation, which causes some melanoma and pediatric brain tumors. Since LCH can also be caused by a BRAF mutation, Kumar wondered whether dabrafenib would also work with his young patient.
After confirming that LCH was causing the child's liver disease, Kumar's team also found mutated BRAF genes in one of the patient's liver biopsies. A short while later, Kumar started the child on dabrafenib.
Four weeks after starting dabrafenib, the child showed no signs of liver disease. Kumar repeated this treatment approach with similar patients and continued to see positive results.
Since he started exploring the gene inhibitor therapy in 2016, Kumar has seen a 100% success rate in every patient who has used the treatment. The children who have received this therapy at Cincinnati Children's have not relapsed and experienced fewer side effects compared to the standard chemotherapy treatment. Cincinnati Children's is the only center in the country offering this groundbreaking therapy as a frontline treatment.
With this new treatment, LCH is no longer a life-threatening disorder for infants and children. Kumar is now exploring a clinical trial that would study this treatment with a goal of it someday becoming the new standard of care.