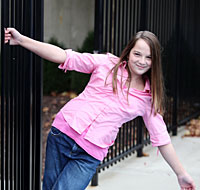 The Hypermobility Clinic provides care and treatment to patients who have entered puberty through age 22 with hypermobility disorders, including hypermobility spectrum disorder and hypermobile Ehlers-Danlos syndrome (hEDS).
Our hypermobility team includes a pediatrician and a registered nurse in partnership with other specialists such as geneticists, genetic counselors and advanced practice registered nurses within the Division of Human Genetics. They clinically evaluate, diagnose and make recommendations and referrals to other specialties as needed. Our team cared for 984 patients in 1,034 visits last year, making us one of the largest hypermobility disorders clinics in the nation.
Signs of a hypermobility disorder can vary greatly from one individual to another, making diagnosis difficult. We are unique because our clinic is involved in the diagnosis and management of hypermobility disorders as well as research to find better ways to help our patients.