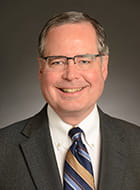 Dr. Hathaway Addresses European Craniofacial Congress and Helps to Form New Association
Ron Hathaway, DDS, MS, MS, Professor, Division of Craniofacial Plastic and Reconstructive Surgery at Cincinnati Children's Hospital Medical Center addressed the 10th European Craniofacial Congress (ECC) in Gothenburg, Sweden on June 26, 2015.
He was the North American speaker in a one half day general session devoted to European-American collaboration. His presentation, A Perspective on European- North American Cleft Palate Outcome Studies: A Dialogue for Sharing and Exploring Future Directions reflected on his experiences as the current President of the American Cleft Palate- Craniofacial Association in strategic planning for research initiatives as well as his experiences as a charter member of Americleft, a North American cohort group dedicated to studying inter-center outcomes for children born with cleft lip and palate. Dr. Hathaway reviewed the current state of cleft palate outcome research in North America and emphasized the need for leadership development, sustainability and innovative collaboration.
In addition, Dr. Hathaway worked as an advisor with ECC leaders on a proposal to form the European Craniofacial Association (ECA). The proposal was voted upon and successfully adopted by representatives from 32 countries. It was felt that this will lead to new collaborations and will strengthen relations with the European Union (EU) by having a united voice for the support of children with facial differences. Previous to this, advocacy had occurred as an effort by each country's separate organization. The next Congress will occur in 2019 in Utrecht City, The Netherlands.