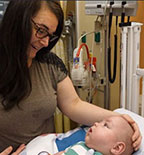 Bronchopulmonary Dysplasia (BPD) Center
Marshall was born at 24 weeks and 3 days, weighing 1 pound and 15 ounces, and unable to breathe without a ventilator. Weeks went by, and he still couldn't breathe on his own. His parents decided to take him to see the specialists at Cincinnati Children's BPD Center.
Marshall's mother, Jenn Hayslip, says, "you have to take it one day at a time. He's now 7 months old and 17 pounds, so he's huge! We trusted the BPD team."
Read BPD stories