Connecting Families to Community Resources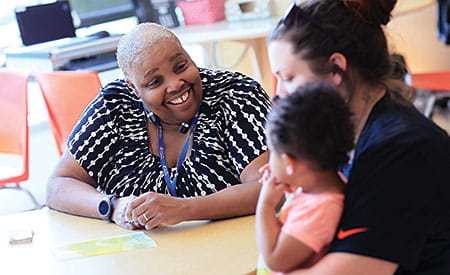 Lisha Lungelow connects PPCC families to community resources.
A friendly smile on her face, Lisha Lungelow walks up to a mom in the Pediatric Primary Care Center (PPCC) waiting room and introduces herself.
"Hi, I'm Lisha, the community resource liaison." Lungelow has a wealth of information to share. She's there in the waiting room to offer help connecting families with community resources. No appointment necessary.
Her new role supports Cincinnati Children's goal of developing a highly effective primary care system that is connected and integrated with the community.
Food
On any given day, Lungelow might meet families who can't buy more food until the next month's SNAP benefits arrive. She knows there's a food pantry nearby. She often picks up food while the family sees the doctor.
Housing
Lungelow meets families living in unhealthy housing. Perhaps they have no heat, or their apartment building has rats. She can connect them with Child HeLP, a medical-legal partnership between Cincinnati Children's and the Legal Aid Society of Greater Cincinnati that focuses on issues that undermine the health and well-being of children.
Employment
She keeps track of job fairs and job training programs at community organizations. In addition to posting and sharing the information, she helps parents apply for training programs and can pre-screen them for CityLink eligibility. She also helps them search for employment opportunities online, create a resume and set up an email to apply for jobs.
Access
Her desk is equipped with a computer and phone for families to use. "The family may not have a phone at home, or may have a cell phone but not enough minutes to make calls and wait on hold," Lungelow explains.
Working at her desk, parents can apply for a job, search for a preschool for their child, download an application for affordable housing through Cincinnati Metropolitan Housing Authority, or get a newborn added to the family's Medicaid account.
Lungelow is excited to be part of Cincinnati Children's efforts to make our community's kids the healthiest in the nation. "It's supercool for the hospital to be aware of these social issues and how they affect child health," she says. "We're doing something more than the average."