Helping Abused Children Heal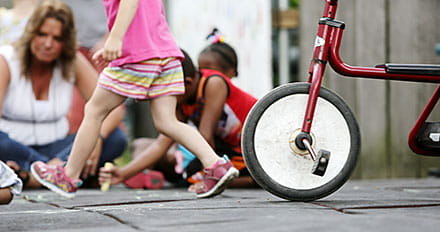 In the preschool's nurturing environment, severely traumatized children learn to trust, and gain the academic, social and developmental skills they'll need in kindergarten.
It looks like any other preschool, filled with the vibrant energy of young children playing and learning. On a recent spring afternoon, the children are outdoors, enjoying the preschool's charming playground.  
They're riding tricycles, swinging, writing with sidewalk chalk, splashing in the play pool, planting flowers and picking strawberries in the garden. Two girls seek out a quiet spot on a bench in a shady corner to play with a doll.   
But this is not an ordinary preschool. It's a unique program for children who have been deeply traumatized.  
Every one of these children is the victim of abuse or neglect. All have been referred to the school by Hamilton County Child Protective Services. Some have been beaten and burned. Some have been sexually assaulted. Some have been mistreated or grossly neglected by mentally ill, low-functioning or drug-addicted parents. Many have been placed in foster homes. 
Not surprisingly, their painful experiences take a profound toll: Severely maltreated youngsters often fall behind in speech, toileting and other skills. They are unable to trust others or to make friends. Like soldiers traumatized in battle, they may be plagued by nightmares, flashbacks, anger or depression. They may be aggressive, even abusive to other children or animals.  
In a classroom setting, they are the problem children − the kind of kids whose behavior is so disruptive they get kicked out of school.  
At the tender age of 3, or 4 or 5, they have had experiences that can damage their emotional, cognitive and social development for the rest of their lives.   
And changing that devastating outcome is what this preschool is all about. 
A County-Wide Partnership
Now celebrating its 25th anniversary, the Therapeutic Interagency Preschool (TIP) is a comprehensive program for traumatized 3- to 5-year-olds.  Organizations that typically work separately have pooled their resources to nurture children who have been so hurt by life.  
Working collaboratively, they offer year-round educational, developmental, mental health and child protection services in one intensive, holistic program. There are social workers, psychiatrists, speech therapists, occupational therapists and physical therapists from Cincinnati Children's. There are teachers from Hamilton County Head Start. There are caseworkers from Child Protective Services. 
"It's a team," says the program's founder and director, Jane Sites, LSW, EdD. "Our job is to help the children make sense out of their life and learn to adapt to new nurturing role models." 
Nurturing Healing 
Every aspect of the program is structured to promote wholesome development and emotional healing.  
The yearlong program follows the Cincinnati Public Schools calendar, but adds nine weeks of programming in the summer.  
In addition to the standard Head Start curriculum, clinical and mental health services are seamlessly integrated into TIP's daily programming.  Speech therapists work on language skills. Occupational and physical therapists work on motor skills. These sessions happen in the classroom, on the playground, in the garden or in the lunchroom − occurring naturally as part of the school day. In addition, the children meet with mental health professionals weekly for individual or small group therapy. 
Activities that look like play have a deeper meaning. Playing in the garden is fun − and much more than fun. Planting a seed, watering the seedling and nurturing the young plant as it grows can be a profound experience for a child who has never been nurtured by a parent. Children who can't form healthy relationships with adults or other children may form strong emotional bonds with the plants they grow in TIP's garden − learning about trust, responsibility and love.  
The staff − from bus drivers to teachers to caseworkers − monitor the child's safety and home situation daily. Caseworkers talk to parents weekly, parents are encouraged to participate in bi-weekly parent-child interaction therapy, and caseworkers visit the family's home monthly. 
With two classes each morning and afternoon, TIP can accommodate 48 children at a time. More than half the children stay with the program for a full year. Thirty-eight percent continue for more than a year.  
And some families return years later for support, as new challenges open old wounds.  
Ready for Kindergarten
"Research shows that social skills are the most important for kindergarten," notes Sites. "Children need to be able to be around other kids. They need to be able to take direction." 
In TIP's nurturing environment, the children make significant strides. In fact, the data show that children who participate in TIP for one year − children who begin the program as the most at-risk kids in our community − make the most developmental progress of any preschoolers in Hamilton County Head Start.
It is a remarkable achievement, and it comes at the right time in the children's lives − a tipping point.  
Emotional and behavioral problems of maltreated children are less responsive to treatment after age 8. By reaching at-risk children early, with intensive therapeutic services, TIP plants the seeds of hope for the children, their families and our community.