3rd Next Available Appointment
Why this measure is important:
By ensuring timely appointment access we aim to avoid delays which can be harmful to those seeking care. Our improvement efforts are focused on developing highly efficient business planning and scheduling systems that can meet the needs of our patients and families.
3rd Next Available is the industry standard for measuring appointment access. In contrast to first and second available appointments that are often the result of last minute cancellations, working patients into the schedule, or other events, 3rd next best represents the performance of the appointment access system as a whole. This measure shows the percent of divisions with a wait time that is 7 days or less.
How we measure:
We measure the new visit types that represent the highest volume (top 80%) for each division. This ensures that our improvement efforts are focused where there is the greatest demand for services for a variety of different clinical needs.
One data point is collected, once each week for selected visit types for each outpatient clinic. Once a week, call center staff manually uses the scheduling system and attempts to make a "fake" patient appointment for certain appointment types. For each visit type, they "spin" the scanner for the next available appointment. Once that is found, the Call Center agent "spins" 2 additional times to identify the 3rd next available appointment.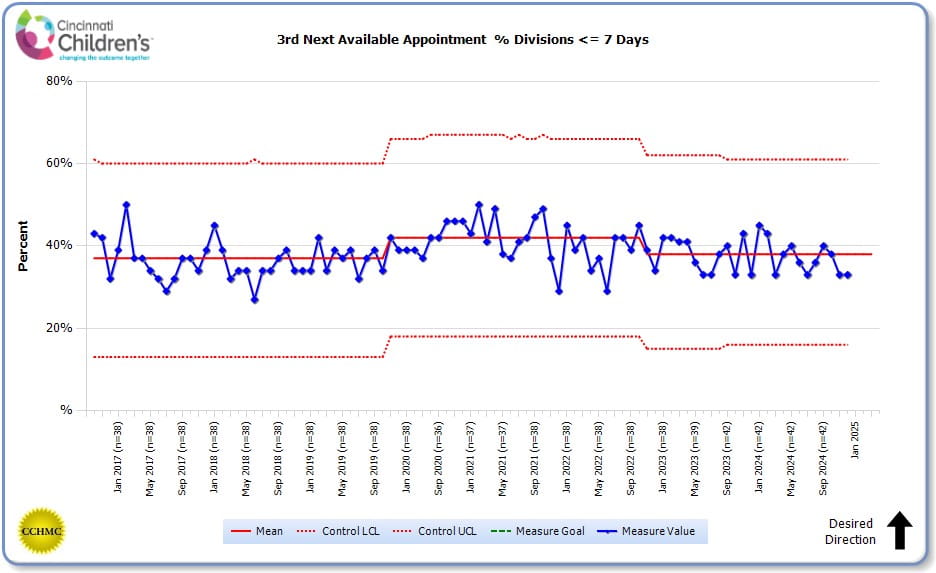 ---
What we are doing to improve
All divisions have identified the new visit types that comprise the top 80% of their total visit volume. Division leadership receives weekly data on the third next available appointment for each of these visit types. Data on individual visit types is used to address access problems in divisions, including addressing mismatch in supply and demand. Access tools, including a decision tree algorithm and supply management tool, are used by divisions to identify access interventions. Access improvement opportunities have been categorized into several areas, including addressing productivity, balancing supply and demand, managing follow-up visits, and identifying specific visit-type concerns. Divisions are being resourced to address these specific opportunity areas.
View the Operational Definition: 3rd Next Available Appointment