Ventilator-Associated Pneumonia
Why this measure is important:
Ventilator-associated pneumonia (VAP) is the second most common hospital-acquired infection in pediatric Intensive Care Units (ICUs) nationally.
Research has shown that children who acquire VAP in the hospital are at high risk of multiple serious complications.
How we measure:
Number of associated pneumonias per 1,000 ventilator days. Each day that the patient is on a ventilator counts as one ventilator day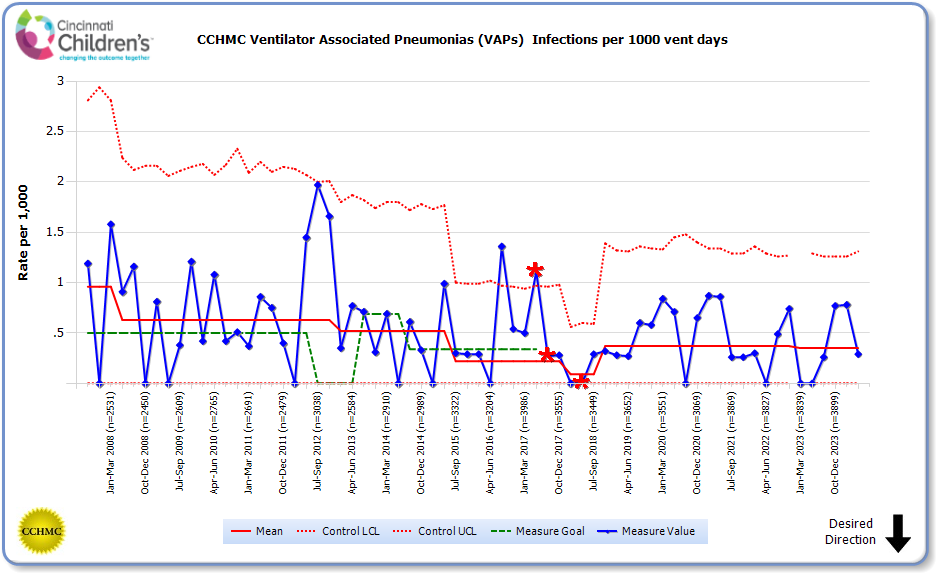 * Denotes chart annotations, including: specific improvement interventions, definition and / or other specification changes
What we are doing to improve:
Implementing process changes, including placement of the head of the bed at a 30 degree angle which have been shown to help prevent VAP
Exploring the use of new technology to improves care including the use of a specific type of ventilator tubing material which helps prevent the growth of bacteria
Redesigning workspace around the bedside to improve the efficiency of care delivered to patients on mechanical ventilators
Reviewing VAP occurrences and related data to identify ways for preventing future VAPs
Participation in the national improvement collaborative - Solutions for Patient Safety, aimed at eliminating all patient harm. Participants share ideas and data to create learning opportunities and accelerate improvement among hospitals nationally.
View the Operational Definition: Ventilator Associated Pneumonia