Occupational Safety and Health Administration (OSHA) Recordable Injuries
Days Away, Restriction or Transfer (DART) Injuries
Why this measure is important:
This measure helps Cincinnati Children's track how many employees sustain injuries or illnesses that require them to miss work, perform restricted job duties or transfer to another job.
Measuring DART allows us to measure against other hospitals through The Bureau of Labor Statistics public reporting of industry DART rates.
Healthy and capable employees are critical to achieve our strategic goals.
We use this injury data to identify and implement interventions and best practices that result in the reduction of harm to our employees.
How we measure: The rate is calculated from injuries resulting in days away, restriction/transfer recorded on the OSHA 300 Log.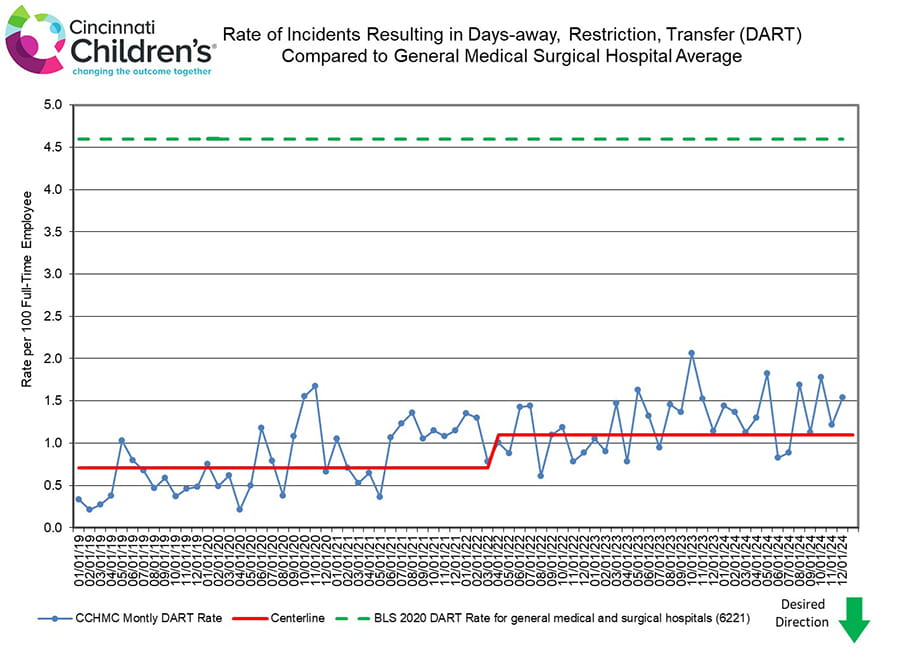 What we are doing to improve:
Implementing many safety initiatives for employee including online learning and education and fall prevention programs
Improving injury management systems and procedures
Occupational Safety & Environmental Health Staff collaborates with other departments, groups and managers to ensure that safety remains an area of focus.
View the Operational Definition: Occupational Safety and Health Administration (OSHA) Recordable Injuries