Clinical Exercise Physiology Internship
The Clinical Exercise Physiology internship program at Cincinnati Children's offers comprehensive training in Clinical Exercise Testing, Cardiopulmonary Exercise Rehabilitation, and Exercise Therapy. The Clinical Cardiopulmonary Exercise Physiology Lab internship program offers training and experience with cycle and treadmill maximal oxygen consumption testing on pediatric and adult patients with congenital heart defects as well as normal subjects for the evaluation of symptoms. The Cardiopulmonary Exercise Rehabilitation internship program offers training and experience with individual exercise sessions in pediatric and adult cardiac rehabilitation as well as goal setting and home exercise plans. Cincinnati Children's Clinical Exercise Physiology internship can only take students who are completing their hours as part of their academic internship requirement. We cannot allow any student on a "volunteer" basis.
Background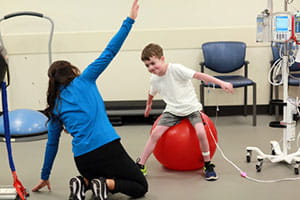 The Cardiopulmonary Exercise Physiology Lab at Cincinnati Children's was established in the early 1970's, and was focused on the conduction of exercise tests for pediatric patients with congenital heart defects as part of their ongoing clinical care. Today, our lab supports 40+ cardiologists and conducts over 1,200 exercise tests annually on pediatric and adult patients with congenital heart defects. Our lab staff consists of 5 master's trained Clinical Exercise Physiologists, a Cardiovascular Technician and a Clinical Manager, who are involved in various scientific conferences, abstract and poster presentations both locally and nationally, and manuscript publications.
The clinical exercise internship program was developed in 2000 with the rotation of one intern per school year. We now support up to five interns per semester (spring, summer, or fall) depending on the hours needed by each student. We can accommodate interns with hour requirements up to 600 hours. Opportunities to job shadow are also available for up to three full days in the Cardiopulmonary Exercise Lab and Cardiac Rehabilitation. The application process will apply. While hosted and organized through the Cardiopulmonary Exercise Physiology Laboratory in the Heart Institute, our interns have the opportunity to work in the cardiopulmonary exercise lab with exposure to exercise testing and cardiac rehabilitation.
The Cardiopulmonary Exercise Rehabilitation program was started in 2009 with 30 patient encounters in one year and has grown to over 1000 patient encounters. This includes individual exercise sessions, home exercise programs and coordinating care to other facilities.
Upcoming Event