Partnership Matters
Invested In Finding a Cure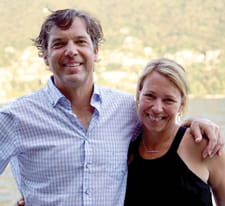 Fatigue, pain and ongoing medical treatments—that's what kids with auto-immune liver disease face every single day. That's why, when their son was diagnosed with primary sclerosing cholangitis (PSC), an incurable, chronic liver disease, John and Christine Browner (pictured) vowed they would be a part of finding a cure for this devastating condition.
The Browners partnered with our experts in the Division of Gastroenterology, Hepatology and Nutrition to establish the Center for Autoimmune Liver Disease (CALD) at Cincinnati Children's. This first-of-its-kind, multidisciplinary center of excellence will bridge research and clinical care to improve outcomes for kids suffering the effects of liver disease.
CALD is poised to make a transformational impact—and it wouldn't have been possible without the Browners' investment. John and Christine won't rest until cures for PSC and other liver conditions are found—and they're confident that the experts at Cincinnati Children's have the talent and the drive to make it happen.
Extraordinary Care Inspires Philanthropic Support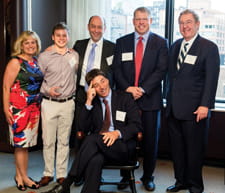 In 2006, Dave and Denise Bunning learned their 10-year-old son, Daniel, had eosinophilic esophagitis (EoE). Rare and often misdiagnosed, EoE causes the body to treat food like a foreign invader, causing inflammation, pain and tissue damage.
Seeking the best care for Daniel, Dave and Denise turned to Marc Rothenberg, MD, PhD, director of the Division of Allergy and Immunology at Cincinnati Children's and founder of the Cincinnati Center for Eosinophilic Disorders (CCED). Here, thanks to Dr. Rothenberg, Dave and Denise found the expertise and innovative care they needed for their son.
Inspired by Dr. Rothenberg's dedication to Daniel and patients like him, Dave and Denise give significant philanthropic support to help Dr. Rothenberg and his team advance discovery about eosinophilic disorders.
In May, to honor the Bunning family's partnership, Cincinnati Children's established the Denise and Dave Bunning Chair for Allergy and Immunology, naming Dr. Rothenberg its first recipient.

Photo caption: Denise and Dave Bunning, along with their son Daniel, honored Dr. Rothenberg (seated) at his chair dedication in their hometown of Chicago.
Celebrating Three Decades of Support
Inspired by his mother's interest in cardiovascular research, Len Berenfield has generously given to heart programs at Cincinnati Children's for nearly 30 years.
Recently, Len supported the creation of The Berenfield Family Endowed Chair for the Division of Molecular Cardiovascular Biology. Designated to support translational research to discover the basic causes of congenital heart disease, the chair was dedicated to Jeffrey Robbins, PhD, executive co-director of the Heart Institute and director of the Division of Molecular Biology.
Thanks to Len's generosity, Dr. Robbins will be able to continue his groundbreaking research into the basic pathology of cardiac disease and advance discovery of new, more effective treatments for kids living with heart conditions. Moreover, Len's gift means the Heart Institute will continue as a worldwide leader in pediatric cardiology and research, providing life-saving heart care to children and families when they need it most.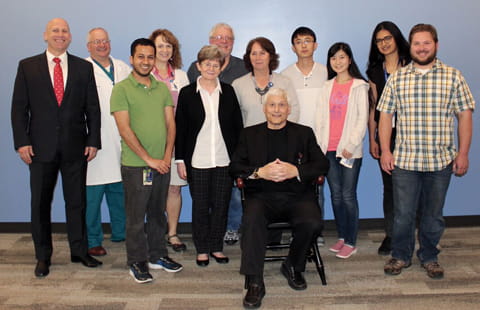 Support for Dr. Robbins' (seated) endowed chair will advance discovery of new, more effective treatments for kids living with heart conditions.