Sincerely Yours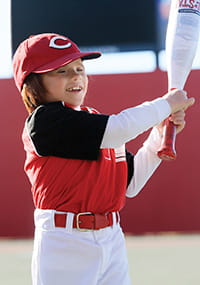 When I was still in my mom's tummy, my doctors told my parents that my brain wasn't developing like it should because I have something called Dandy- Walker Syndrome. They weren't even sure I would make it.
But here I am! I love swimming, sleeping in hotel rooms and playing baseball. I get to play baseball every summer at the Joe Nuxhall Miracle League Fields, and I love cheering for the Reds.
Last year, when I was getting better after one of my surgeries, guess who visited me in the hospital? Joey Votto and J.J. Hoover! They're my favorite players. They asked me how I was doing, which was really nice. I even let my brothers meet them!
I still come to Cincinnati Children's for regular checkups. I hope I'm done with the big surgeries, like the ones I had on my brain and my spine. I want to be healthy and strong. That's what it takes to hit home runs – and I plan to hit lots of home runs!
Abigail, 8 grateful patient