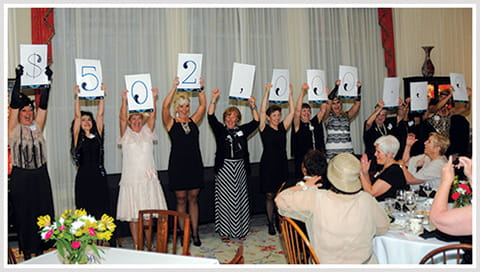 In what has become a favorite tradition, Kindervelt members reveal how much they've raised for the Kindervelt Neurodevelopmental and Educational Clinic at the Heart Institute at Cincinnati Children's.
Partnership Matters
Kindervelt Continues Legacy of Support
Cincinnati Children's is fortunate to have so much hometown support, including that of our largest fundraising auxiliary – Kindervelt.
Recognized as one of Greater Cincinnati's most outstanding volunteer organizations, Kindervelt commits to raise money for specific departments or divisions at the medical center for four years at a time. Most recently, the group announced it has raised $502,000 for the Kindervelt Neurodevelopmental and Educational Clinic in the Heart Institute, which helps address the many developmental needs that can be associated with children who have heart conditions.
The group holds large-scale events, like their Gala and Market, as well as smaller fundraisers like wine tastings, bingo, bake sales and more. The group's total donations top more than $17 million, and have helped the Division of Asthma Research, Division of Adolescent Medicine, Cardiovascular Research and so much more. Learn more about Kindervelt membership at kindervelt.org.
Speedway
Through their partnership with Children's Miracle Network (CMN) Hospitals, Cincinnati-area Speedway stores and their customers are supporting Cincinnati Children's and helping children here at home and around the world.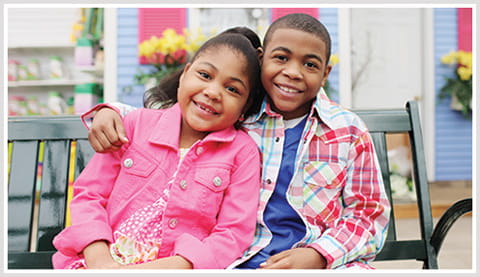 Zhania and Zion Coleman were the Ohio Children's Miracle Network Hospitals Champions in 2014. They suffer from sickle cell disease and a heart condition treated by our experts in the Cincinnati Children's Cancer and Blood Diseases Institute and Heart Institute.
Since 1991, local Speedway stores have donated more than $2.8 million to the medical center. From the Complex Care Center to our Cancer and Blood Diseases Institute, Speedway has invested in our patients and families. Their gifts have helped children with many complex diagnoses find a medical home that can monitor their health and development and help them reach their fullest potential.
Speedway asks its customers for their support of Cincinnati Children's by providing opportunities to donate at the register, as well as holding special sales on items like Speedy Freezes. The company also hosts a golf outing that consistently provides more than $363,000 in support each year.
Currently, Cincinnati-area Speedways are working to raise money to invest in the medical center's initiatives aimed at helping Cincinnati's kids become among the healthiest in the nation, improving child health worldwide as well as the research that makes it all possible.