Funding Research – One Month at a Time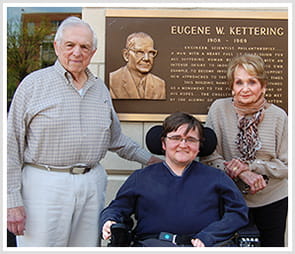 For Dick and Nancy Tapia, supporting Cincinnati Children's was never a question. They felt called to give back to the medical center because of the expert care their grandson, Tyler, receives – care that has given him the opportunity to defy all odds and achieve his dreams.
Tyler has Duchenne muscular dystrophy, a genetic disorder that results in muscle degeneration, weakness and heart disease. When he was 15, he became so sick that his family nearly lost him. His hometown hospital referred him to Cincinnati Children's to get the help that he so desperately needed.
Tyler got here just in time.
"He was in bad, bad shape when he got to the hospital," Nancy recalls. "If it weren't for the doctors and nurses at Cincinnati Children's, Tyler wouldn't be with us today. They saved his life."
After a three-week stay at the medical center, Tyler's family decided that Cincinnati Children's, even with the long drive from their home, would be the only place he would be treated.
And because of the expert care he has received at Cincinnati Children's, Tyler has gone on to accomplish great things – he recently completed his undergraduate studies and is now pursuing his master's degree in aerospace engineering at the University of Dayton.
"Tyler is here with us today – and accomplishing his goals – because of the care he receives at the Cincinnati Children's," Nancy shares. "The doctors and nurses are incredible."
More research is needed to find a cure for Duchenne muscular dystrophy. That's why Dick and Nancy choose to make monthly gifts to the medical center to help advance discovery, and as a way to show their thanks for the care Tyler continues to receive.
"We give because of all that they have given Tyler," Dick adds. "If there is any hospital that can help find a cure for this disease – it's Cincinnati Children's. I have no doubt."