Interventional Radiology - Translational Research & Simulation Lab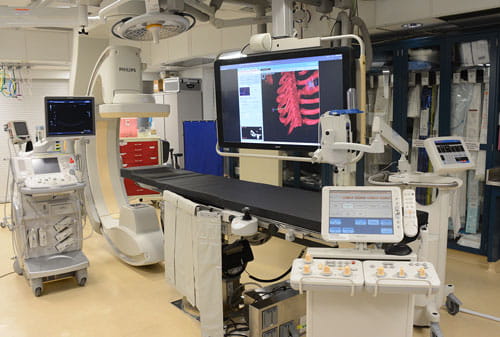 Located in the Imaging Research Center (IRC) and part of Cincinnati Children's Department of Radiology, the Interventional Radiology - Translational Research & Simulation Lab (IR-TRSL) is an interdisciplinary research facility that investigates:
minimally invasive procedures
device development, and
pre-clinical imaging technologies for the diagnosis and treatment of diseases in children and adults
Established in 2011, our lab includes the latest IR suite technology with a fully clinical Philips AlluraClarity FD-20 angio-interventional system. We provide investigators at Cincinnati Children's, the University of Cincinnati, and industry access to state-of-the-art interventional radiology facilities as well as advanced analytical imaging and image post-processing capabilities. Our goal is to provide collaborating researchers with the tools and expertise needed to achieve their study goals.
Core Functions
Conduct original research in new methods and applications of current and emerging Interventional Radiology (IR) technologies for minimally invasive image guided therapy for all patient populations.
Provide consultation and access to advanced imaging and IR techniques for researchers and industry clients.
Educate and train researchers, clinicians, fellows and students in the use of IR imaging technologies and image guided therapy techniques.