The calcium-stimulated adenylyl cyclases (ACs) provide a critical control point for the regulation of neuronal physiology, and have been implicated in activity-dependent alterations in neural function. To further elucidate the mechanisms involved in the behavioral and adrenal responses to chronic stress, we have generated mice deficient in adenylyl cyclase type VIII (AC8), the only calcium-stimulated adenylyl cyclase expressed in the hypothalamus.
These mice demonstrate significant abnormalities in adaptation to chronic stress, and serve as a valuable model of stress-related learning. The ramifications of loss of calcium-stimulated adenylyl cyclase activity extend beyond modulation of the stress response.
We have additionally demonstrated substantial defects in synaptic plasticity, long-term potentiation, and learning and memory in mice deficient in both AC1 and AC8, and thus all calcium-stimulated AC activity (Wong et al. Neuron 1999).
Based upon the interaction of NMDA-receptor signaling and activation of AC1 and AC8, we have recently demonstrated significantly enhanced sensitivity of mice deficient in these AC isoforms to the neurotoxic effects of ethanol during brain development (Maas et al. J Neurosci 2005). This finding will shed light on the mechanisms of damage occurring in fetal alcohol syndrome, a common, important pediatric disease.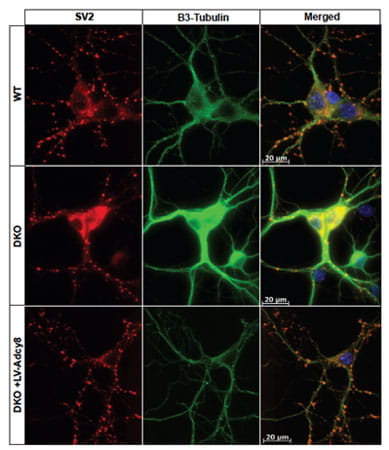 Adenylyl cyclase type 8 regulates SV2 expression. Shown are representative images of SV2 distribution in cultured hippocampal neurons. SV2 is labeled with CY3 (red). β3-tubulin, a neuronal marker, is labeled with Alexa 488. Dapi is used to visualize nuclei. SV2 is reduced in DKO cultures, but not DKO cultures infected with Lentivirus-Adcy8