Becoming a High Reliability Organization
Our journey toward becoming a high reliability organization focuses on improving reliability through better process design, building a culture of reliability and leveraging human factors by creating intuitive designs that help people do the right thing. Though our drive to become an HRO originated with safety, we have come to realize this work will improve our performance in everything we do.

We're also focusing on several principles of reliability science:
Designing reliable, standardized systems that support staff decisions, opportunities for feedback, ongoing learning and change
Learning to be more mindful of decisions and actions using HRO theory (see below)
Improving situational awareness – the concept of reliably identifying at-risk patients, lessening their risk and escalating risks until the patient is safe
Managing by prediction and having robust plans in place for the expected and the unexpected
Looking at human factors – how we relate to the world around us and how learning more about how we work and interact, and designing systems that take human factors into account, can help us better keep patients, families, employees and visitors safe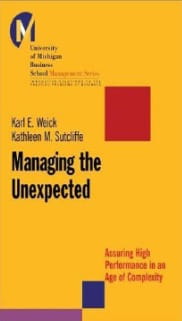 The theory of high reliability has come to healthcare from naval aviation and the nuclear power industry. The following are five key characteristics of an HRO, according to Weike and Sutcliffe:
1. Preoccupation with Failure
Everyone is focused on errors and near-misses, learning from them and figuring out how to prevent them from happening again. Attention to detail is crucial. Finding and fixing problems is everyone's responsibility and is encouraged and supported by leadership.
2. Reluctance to Simplify Interpretations
Requires constantly asking the "why" question and inviting others with diverse experience to express their opinions. The belief is that the more you're immersed in something, the harder it is for you to objectively observe and question things that need questioning. Leverage new thinking to get the right answer!
3. Sensitivity to Operations (an HRO Distinguishing Characteristic)
An ongoing concern with the unexpected. Hallmark actions include closing loopholes in processes where there is potential for patient harm, maintaining situational awareness, developing teams that speak up and paying attention to the frontline – which in hospitals is primarily nurses, patient care attendants, techs and support staff.
4. Commitment to Resilience
The concept that things will go wrong that we can't predict; mistakes will be made, and we will get into trouble. But we will quickly identify issues and have structures in place so we can immediately respond and minimize the harm. Errors won't disable us.
5. Deference to Expertise
Finding and using experts for the given problem in the given time. More specifically, it means recognizing that those closest to the frontline are the experts and empowering them to make decisions when a critical issue arises results in quicker mitigation of harm.
In HROs, senior leaders are conducting frequent walk-rounds to reinforce safety behaviors and find and fix critical safety issues. They're also meeting in daily operational briefs where they look back to learn from failures and look forward to predict and lessen risk or harm.
Frontline leaders (for example, unit charge nurses) are rounding with staff every day, giving 5:1 positive to negative feedback, conducting daily huddles and modeling the expected safety behaviors. HRO leaders manage by anticipation and prediction rather than reaction. Frontline leaders are focused on predicting events in the next 24 hours and making real-time adjustments to keep patients, families, employees and visitors safe.