Excellent Prognosis for Lillian
Lillian Receives Life-Saving Care
Lillian's mother knew something just wasn't right. Usually an active toddler, Lillian was sleeping all the time. When her condition hadn't improved after a few weeks, Lillian's pediatrician sent her for a CT scan. She had a cancerous brain tumor and was sent immediately to Cincinnati Children's for life-saving care.
It was February 26, 2008. Lillian, then 2, had been unusually tired for weeks. Instead of running around playing or making crafts with her mom, Lillian just wanted to sleep.
Beth Siebert, Lillian's mother, had been making weekly visits to the pediatrician with her daughter. "They kept telling me it was a virus. I knew something was wrong."
At Beth's insistence, Lillian's pediatrician tested her for mono and instructed Beth to call if things didn't improve while they waited for the test results.
The day after Lillian was tested for mono, her daycare called to say Lillian had slept into the afternoon. "We went back to the doctor that same day," Beth says.
At a hospital near their hometown of Brookville, Ind., Lillian had a CT scan, which resulted in an ominous discovery. Lillian had a brain tumor, and she needed immediate, specialized care in order to survive.
Apprehension Sets In
Lillian was transported to Cincinnati Children's, an international leader in clinical care and research in pediatric neurosurgery and cancer care.
Beth remembers it all as very surreal. She was seven months pregnant at the time and Lillian's dad, Doug, was working in Iraq. She had just learned that her baby girl had a life-threatening brain tumor - a devastating and shocking diagnosis. While trying to process what this will mean for her child, she was also anxious about the hospital experience.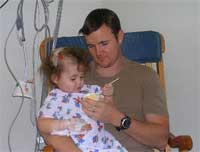 Lillian was diagnosed with a cancerous brain tumor when she was 2 years old. She was rushed to Cincinnati Children's for immediate life-saving care.
"We hadn't really dealt much with hospitals before this," Beth says. "The only experience we had was when my grandfather was hospitalized after a bad accident. His hospital experience was not good. That's what I kept thinking about."
Her worries were put to rest as she and Lillian rode by ambulance to the main hospital in Avondale, an hour-long trip. A neurologist from Cincinnati Children's rode the entire way with them, explaining what would happen next and answering any questions they had.
"It was awesome and really put my fears about the hospital to rest," Beth says.
Surgery for Lillian
Lillian was admitted to the Intensive Care Unit at Cincinnati Children's where a team of specialists from the cancer program and neurosurgery set out immediately to determine the best treatment plan.
Lillian had a fibrillary astrocytoma, a cancerous tumor of the brain. These types of tumors afflict approximately 700 children in the United States each year. Occurring in various areas of the brain and spinal cord, the tumors can be deadly.
Lillian's tumor was causing hydrocephalus, a build-up of fluid on her brain. "When this happens, the cavities in the brain that hold fluid get bigger, leading to headaches, vomiting, poor eating and lethargy," says Trent Hummel, MD, Lillian's oncologist at Cincinnati Children's. "In Lillian's case she was tired, had neck pain, and was not eating well."
Each year approximately 60 children are newly diagnosed and treated for brain tumors at Cincinnati Children's. Treatment options and the chance for recovery depend on many factors, including the type of tumor, its location, extent to which it has spread and the age and general health of the child.
On her first full day in the hospital, Lillian had surgery to insert an external ventricular drain (EVD) to alleviate the liquid on her brain. Then, on February 29, Lillian had another surgery, this time to remove the tumor.
She was in good hands.Francesco Mangano, DO, Lillian's neurosurgeon, and the neurosurgery team at Cincinnati Children's provide care to more than 1,000 patients and 3,500 outpatients with various neurological diseases. With one of the most technologically sophisticated neurosurgical operating programs in the world, Cincinnati Children's provides advanced surgical treatment and a comprehensive program seen in only a few centers throughout the country.
Lillian's surgery was a success, and she bounced back quickly. She was released from the ICU after just one day and went home on March 10.
Chemotherapy: Lillian's Best Hope for Recovery
Since it is not unusual for these types of tumors to recur, Lillian's doctors wanted to keep a close eye on her. She returned to Cincinnati Children's three months after her surgery for a follow-up MRI. To everyone's dismay, the test showed that the tumor had started to grow back - just a little around the edges, but enough to reevaluate next steps. Would Lillian need another surgery or would chemotherapy be enough? Together, Lillian's care team and her parents decided that chemotherapy was the best course of action.
Lillian's little body was in for a tough time. She would need 43 chemotherapy treatments, starting with 10 straight weeks and then eight cycles of four weeks on and two weeks off.
Beth recalls the first day of Lillian's chemotherapy, June 19, 2008. "It was a really difficult day, heart-wrenching to have to watch your precious little girl go through all this," she says. "But Dr. Hummel was so good to us. He stayed the entire time Lillian was getting her first chemo treatment. He was so optimistic and he answered all our questions," Beth says.
Dr. Hummel is part of a team within the Cincinnati Children's Cancer and Blood Diseases Institute, which brings together clinicians and researchers to work collaboratively to promote a greater understanding of childhood diseases and to more quickly bring better treatments to children.
Every day in the United States, 46 children are diagnosed with cancer, which is responsible for the deaths of more children than any other disease. In children younger than 15, brain tumors continue to be the most common solid tumor found in children and comprise 20 percent of all childhood cancers. As a nationally recognized leader in cancer care and research, Cincinnati Children's is dedicated to conquering this disease and saving the lives of children and young adults.
It was a very difficult time for the entire family. Lillian's dad was able to come home for her surgery. But, since he carried the medical insurance for the family, he had to return to Iraq to work. And Beth had a newborn to care for as well. Evan was just six weeks old.
"There were so many emotions running through each of us. We had to take it one day at a time, one hour at a time," Beth remembers.
Lillian handled the treatments like a champ, her mom says. She did have days where she would become physically ill, and she lost most of her hair. But the part Lillian hated the most was when the caregivers were gaining access to her port, the tube that is inserted to administer the medication.
"Lillian didn't like it. Not so much because it hurt, but because she didn't like being held down. She couldn't suck her thumb," Beth says.
More than a year later, on September 3, 2009, she had her last chemotherapy treatment.
Enjoying Healthy, Happier Days
To see Lillian today, you'd notice no signs that she went through such an ordeal. She's back to playing games, dancing, doing crafts with her mom and loving anything that has to do with Dora the Explorer.
"Lillian is doing really well. Lillian's tumor responded dramatically to the chemotherapy and there is no evidence of her tumor on recent MRI scans," says Dr. Hummel. "She always has been an upbeat and talkative girl, and it was a joy being involved in her care."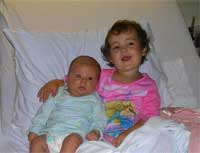 After having surgery to remove the tumor, Lillian needed 46 chemotherapy treatments. Her first treatment was in June, 2008. Her baby brother, Evan, came to the hospital with the family.
Doctors will closely monitor Lillian's condition with MRI scans every three months for a while to make sure the tumor doesn't come back. Her long-term prognosis is excellent.
Beth and Doug, Lillian's dad, and her brothers, Evan and Zachary, are just grateful that Lillian is healthy again and that she received care at Cincinnati Children's.
"We wish we didn't have to experience this at all, but we're glad we were able to experience it at Cincinnati Children's," Beth says. "We just can't say enough about how wonderful this hospital is. We know there is a team behind her that has her best interest at heart. It is amazing."

Share Your Story
If you have had an experience with the Cancer & Blood Diseases Institute, we invite you to share your story.