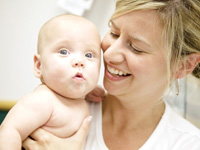 Breastfeeding is not only the optimal nutrition for babies, but it also improves lifelong health for both mothers and babies. The members of the Center for Breastfeeding Medicine are committed to helping families reach their breastfeeding goals.
The Center for Breastfeeding Medicine's International Board Certified Lactation Consultants support breastfeeding mothers and babies through education, advocacy, research, quality improvement projects, and exceptional clinical care.
Whether a mother is just getting started with breastfeeding, returning to work, needs assistance with a breast pump, or is preparing to wean her baby, we have lactation professionals ready to help.
Clinical consultation throughout Cincinnati Children's is available in the inpatient, primary care and outpatient settings. To learn more, see our Programs and Services page.
Combining Research and Clinical Care
Center members participate in research and quality improvement projects throughout inpatient, primary care and outpatient settings.
Ongoing projects include:
Mother's Own Milk Subgroup of the Necrotizing Enterocolitis Taskforce
Measurement of Human Milk Feeding at Discharge from Cincinnati Children's
Status of Breastfeeding at the Pediatric Primary Care Clinic Compared to Maternity Hospital Discharge
Breast Milk Feeding in Infants at 2 months in the Pediatric Primary Care Clinic
Outcomes of the Breastfeeding Medicine Clinic through a Research Registry
Focusing on the Family
Our lactation professionals incorporate a family-centered supportive approach into our clinical care. This means that breastfeeding mothers are included in every aspect of the feeding plan for the baby, including what she thinks is feasible for the family. Mothers' concerns are continually addressed as the baby changes and develops.
Combining the Most Respected Disciplines
The Center for Breastfeeding Medicine's members work closely with faculty and staff in the Cincinnati Children's Divisions of Nutrition Therapy, General and Community Pediatrics, Neonatology, Perinatal Institute, Cardiology, Gastroenterology, Infectious Disease and Cincinnati Fetal Care Center. Our lactation professionals also collaborate with colleagues at the regional maternity hospitals, the University of Cincinnati College of Medicine, and local community organizations.
A National Leader
Members of the Center for Breastfeeding Medicine serve on regional, national, and international breastfeeding related professional organizations and regularly present their findings at annual meetings.