Planning for Your Visit or Surgery
Thank you for choosing the Chest Wall Center to provide your care. We work closely with many in-house departments to ensure you have the assistance you may need during your stay with us. From help organizing your stay to concerns regarding insurance and medical billing, we are here to help.
Diagnostic Testing
The testing listed below is not required for your first visit with the program. If your surgeon and you determine surgery is necessary, these tests will need to be completed to move forward:
MRI / Cardiology Evaluation
Allergy Patch Testing
Pulmonary Function
Pectus Education Class
EKG
Staph
Before and After Surgery
At the Chest Wall Center we are proud of our patient post-surgery outcomes for both pectus excavatum and pectus carinatum. How the chest looks after the bars are in place is also a point of interest for families. Below you will find before and after images from three patients treated at our center.
Surgical Repair of Pectus Excavatum with Nuss Procedure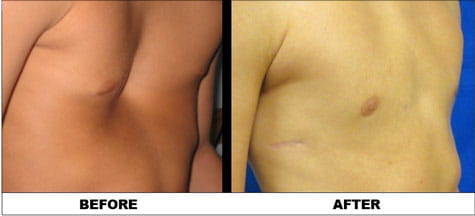 16-year-old male with a haller index of 4.7.
Two surgical steel bars were used.
After image shows patient 6 months post-surgery.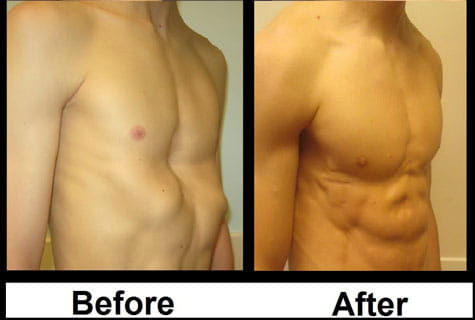 15-year-old male with Haller Index of 3.7.
Two surgical steel bars.
After image shows patient 2 years after surgery
Pectus Carinatum Repaired with FMF Dynamic Compressor Brace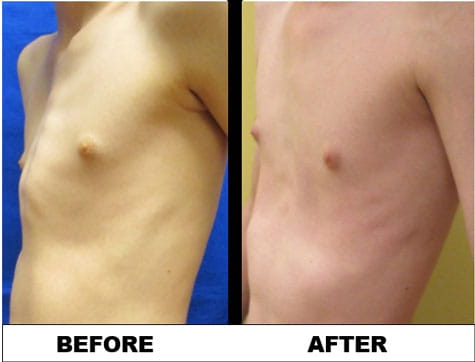 12-year-old male.
Corrected using bracing 20 hours a day.
The after image shows the patient after 3 months of bracing.
Frequently Asked Questions
The Chest Wall Center provides answers to frequently asked questions, including information on scheduling surgery and expected recovery time.
If you have a question, call us at 513-803-1062.