Outpatient Nutrition Clinic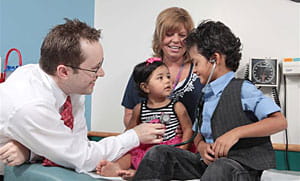 The Division of Nutrition Therapy offers outpatient nutrition counseling to help maintain and improve a child's nutritional health. Registered dietitians provide nutrition counseling for patients from birth up to 22 years of age.
Appointments are available at the Cincinnati Children's main campus and at several neighborhood locations, including Anderson, Eastgate, Liberty Township and Northern Kentucky. Telehealth appointments are also available.
A registered dietitian will obtain an eating history and body measurements including a nutrition focused physical exam and will review medical information from the child's physician. The patient and family will work with the dietitian to develop a safe and individualized nutrition plan. Our goal is to achieve healthy outcomes.
Initial appointments last about an hour, and follow-up visits can be scheduled to monitor progress and adjust treatment plans.
Before Your Appointment
Contact the patient's insurance provider before scheduling an appointment to verify coverage. A physician's referral to the Nutrition Clinic is not required for service, but is often required for insurance reimbursement.
Call

513-636-7475

, option 1, to schedule an appointment. Specify the preferred location for service.
Prepare a list of medications and any vitamin or mineral supplements your child takes and bring to the appointment.
Record everything your child eats or drinks for 24 hours before the appointment to take to the dietitian to review.