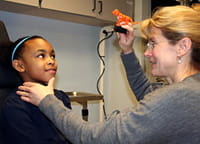 Nothing is more precious than your child's sight. A pediatric eye disease, condition or injury can have a severe effect on your entire family's quality of life. Thankfully, we offer a range of pediatric care services designed to help you and your child achieve the best possible outcome.
Pediatric Care Services We Offer
The Division of Pediatric Ophthalmology serves as a referral center for all significant pediatric eye disease and trauma cases in the Greater Cincinnati region. Learn about the range of care services we offer.