Serious Safety Events
A serious safety event (SSE) is a variation from expected practice followed by death, severe permanent harm, moderate permanent harm, or significant temporary harm.
Why This Measure Is Important
Our goal is to eliminate all serious harm to our patients.
How We Measure
To measure SSEs, we use a standard definition that has been adopted by the Ohio Children's Hospitals' Solutions for Patient Safety (SPS) collaborative. For a given period, the total number of SSEs identified is divided by the sum of the adjusted patient days (inpatient days plus "equivalent" outpatient days) and multiplied by 10,000. A rolling 12-month average of SSEs per 10,000 adjusted days is calculated monthly. The chart below displays a moving average of the quarterly rate to reflect the historical downward trend of the serious safety event rate.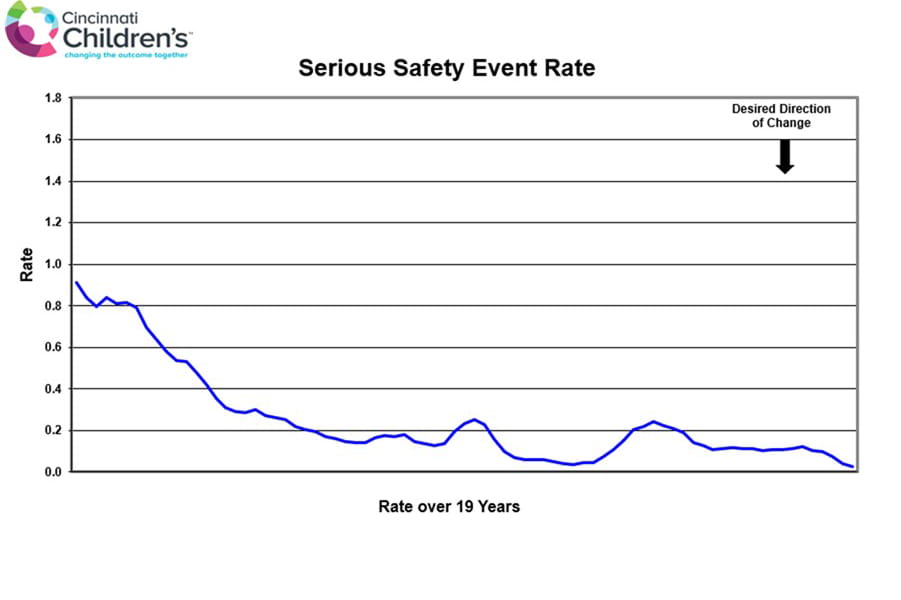 What We Are Doing to Improve
When an event is identified, a multi-disciplinary, structured problem-solving process is implemented to intensely review and analyze the event to identify root causes or basic conditions that caused the event, and to develop comprehensive corrective actions to prevent recurrence of the root causes.
Each day key hospital staff convene for a daily safety briefing to discuss possible operations issues and identify ways to eliminate (the removed) the issues.
At Cincinnati Children's, we believe that becoming a high reliability organization (HRO) will not only make us a safer organization, but also make us better at everything we do. Learn more about our efforts to become a high reliability organization and our methodology for achieving our safety goals.

Participation in the national improvement collaborative - Solutions for Patient Safety, aimed at eliminating all patient harm. Participants share ideas and data to create learning opportunities and accelerate improvement among hospitals nationally.