Playing for Keeps
How organized sports are motivating kids like Ryan to succeed beyond the playing field—and what Cincinnati Children's is doing to help keep them in the game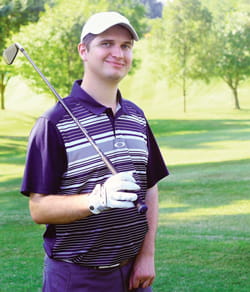 One clear spring day eight years ago, 12-year-old Ryan did what he loved best—he went to the golf course with his friends. Golf was his passion, and although he was only in seventh grade, Ryan already had his sights on playing in college.
But when he and his friends reached the eighth hole, Ryan's "happy place" suddenly became the place that put his dreams, and his life, in jeopardy. A gust of wind brought a heavy tree limb crashing down on Ryan, hitting him in the head and crushing part of his skull.
Ryan's friends called for help, and an ambulance rushed him to Cincinnati Children's.
"When we arrived at the hospital, the first person to greet us was a chaplain," says Ryan's dad, Don, shuddering as he remembers the day of the accident. "We knew right then that it was bad."
World Class Care Brings New Hope
For the first few days, Ryan's doctors weren't certain that he would make it. A team of surgeons performed several operations on his brain to repair damage caused by the tree limb, and they medically induced a coma.
"Ryan had a devastating traumatic brain injury," says Rich Falcone, MD, MPH, director of Trauma Services at Cincinnati Children's. "The type of injury he had was the type that few children can survive. Thanks to the rapid response of so many different teams at Cincinnati Children's, Ryan did survive."
While they were grateful that he pulled through all the surgeries, Ryan's parents feared for what his life would be like when he finally woke up. Would he be paralyzed? Would he be able to communicate with them? Would he still be the Ryan they knew and loved?
It was two agonizing weeks before they were able to replace some of their fears with hope. During one of those long days in the hospital, holding her son's hand at his bedside, Ryan's mom, Shelly, whispered to Ryan that she loved him. And when Ryan used simple hand gestures to tell her that he loved her too, Shelly and Don knew their son would fight his way back.
I'll never forget that," says Don. "To this day, I get the chills when I think about it."
Gradually, thanks to Ryan's determination and the coordinated care he received from experts in physical, occupational and speech therapy, Ryan's condition steadily improved. His family was overjoyed, and his doctors considered Ryan's recovery nothing short of incredible.
"Aggressive care by our clinical teams, early involvement of our rehabilitation team and therapists, and the unshakable commitment by Ryan's parents—and, ultimately, by Ryan—are what led to his amazing recovery," says Dr. Falcone.
It suddenly seemed possible that Ryan might not only be able to walk and talk again, but to live his dream of playing college golf.
Getting More Than Exercise From Youth Sports
Brain injuries as severe as Ryan's are rare, but more moderate forms of brain injury, like concussions, are common—especially for student athletes. Concussions, even the mildest ones, can affect school performance and emotional well-being.
"At Cincinnati Children's, we see about 3,000 concussion-related visits from patients every year," says Paul Gubanich, MD, MPH, a researcher in the Division of Sports Medicine. "That's a 40 percent increase in the last four years."
Dr. Gubanich stresses that there is no "normal" recovery period for kids who suffer concussions, but that full recovery can take four weeks or more and must be tailored to the individual's particular situation and risk factors. In many cases, this kind of rest requires kids to miss out on school and sports.
Kelsey Logan, MD, MPH, director of the Division of Sports Medicine, stresses how important it is for kids to recover and get back to the things they love.
"Children of all ages are enriched by physical play," she says. "Study after study shows that kids who are active have better attendance and perform better in school—improving their overall health."
Together We Can Do More
Dr. Logan and her team work closely with local schools and youth organizations to both prevent and detect brain injuries. Athletic trainers from Cincinnati Children's work in 11 urban high schools and 15 youth sports organizations in Greater Cincinnati, providing the kind of screenings and follow-up care that help students recover from injuries and get back to their sport.
These initiatives are a key part of our efforts to improve the health of children throughout Cincinnati, and they're deeply reliant on philanthropic support. With help from donors, we could equip schools with even better tools for diagnosing and treating injuries. We could also conduct further research into the link between athletic and academic performance, and how injuries affect a student's overall well-being.
"Concussions can happen whether you're a star athlete or just hanging out at the playground," says Dr. Logan. "Medical research on concussions has the potential to benefit kids from every part of our community."
Determination On and Off the Links
Ryan's story is a testament to how passion for a sport can contribute to success that goes beyond athletic achievement. "Getting back onto the golf course was always my main motivation to make a full recovery," says Ryan, who endured months of intense physical and speech therapy to reverse the damage that was done to his nervous system. "But I also wanted to make sure I could live the same life as all of my friends."
And he is. While Ryan's accident has had lingering effects on his mobility, balance and vision, it didn't stop him from learning to swing a golf club one-handed and making it onto his college's golf team.
As a junior at Mount St. Joseph University, Ryan is achieving his dream of playing college golf. And not only is he a straight-A student, he lives independently in his dorm—something that he and his family thought might never happen. Ryan's fight to make sure his injury didn't win is why he was recently awarded the David Toms Overcoming Adversity Award.
And Cincinnati Children's recently welcomed Ryan back—not as a patient, but as an intern in our Seacrest Studios, where he helps with day-to-day operations. The studio, which broadcasts original radio and video entertainment to patient rooms throughout the hospital, helps lift the spirits of other kids who may be facing challenges as big as the one Ryan faced eight years ago.
I knew from the moment I woke up from the coma that if I worked as hard as I could, good things would happen," Ryan says. "And they have."